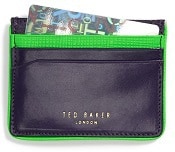 Should you get an MBA? If you've ever pondered getting your MBA but wondered if it was worth the investment of time and money, today's guest post is for you. We've talked about how to prepare your finances for grad school, as well as the pros and cons of changing careers, but we truly haven't talked about this — so I'm thrilled to welcome the personal finance blogger behind Well Heeled Blog, a young woman who just finished her MBA. Welcome to Corporette! – Kat.  (Pictured: Ted Baker London 'Neon' Leather Card Wallet, $55 at Nordstrom.)
I recently graduated from a 2-year, full-time MBA program at one of the "15 schools that make up the Top 10 MBA." I once heard a dean use that phrase and think it's a humorously apt way to describe the way schools jockey for that much-vaunted "top 10." designation.
Once you include the money I spent out of pocket and the opportunity cost of two years of foregone earnings and benefits (minus the living expenses I would have had to spend, MBA or not), this degree cost me at least $250,000. That's enough for a house in many parts of the country, and a hefty down payment in even the priciest areas such as San Francisco or New York City.
Was my MBA worth it? I'm a long-time Corporette reader and occasional commenter, and I've seen several questions on MBAs and finances. The decision to pursue an MBA isn't solely about the ROI in dollars and cents–there are plenty of non-financial benefits such as a grounding in business education, a wider and deeper network, and the opportunity to devote two years to furthering your professional and personal growth. Still, the fact remains that an MBA is an expensive proposition for most people, and this proposition can expand your career horizon while at the same time limiting your future financial choices. Here are my thoughts about the financial implications of an MBA now that I have completed my degree–what I would (and have) told friends who are thinking about pursuing an MBA, especially through a full-time program:
1. How much do you expect to make again?
There are a lot of jokes about MBAs raking in the big bucks once they graduate. That's not quite true, at least not to the extent that people imagine. One of the little secrets about the MBA is that the highest paying jobs for fresh-out-of-business-school folks tend to be concentrated in just a few fields, most notably finance (private equity and investment banking) and management consulting.
What no one really talks about is how difficult it is to get those jobs and how much your previous background determines your chances. For example, a private equity position is usually for folks who have private equity experience going into the MBA, and ever since the recession, the investment banking field is looking for people with very strong quantitative skills. It is still possible to be a teacher-turned-banker, but it is much more difficult in 2014 than in 2005. Management consulting is open to many more types of backgrounds, but the recruiting process is still difficult. Many of the desired tech marketing positions or product manager positions need a computer or engineering background.
2. How long can you do it for?
Furthermore, many of these industries have a regimented up or out, rank or yank, grow or go structure (the lawyers on this blog will recognize it as the Cravath system). Whatever you call it, a significant percentage of every incoming MBA class is culled every year. So in order to pay off that big student loan in a short time frame (say, under five years), you will have to get and then hold on to one of those relatively high-paying, very high-stress, very time-intensive jobs for at least several years.
3. What's your payback period and are you OK with it?
Payback period: Previous after-tax salary x 2 + cost of MBA = Total opportunity cost of getting this degree
Total opportunity cost / (Post-MBA compensation – Pre-MBA compensation) = years to pay back
I've calculated mine – and it's somewhere around three to four years, depending on my post-MBA salary and bonus. Of course, this doesn't take into account interest or inflation and is not risk-adjusted on the likelihood of job loss, but I've found it a good gut check. Does this number seem unacceptably large to you? Sometimes people make a conscious decision to have a very long payback period, or even knowingly choose a scenario where an MBA doesn't make financial sense. Imagine an investment banker who returns to school to become a nonprofit consultant, for example, or a corporate lawyer who wants to get into marketing. That's OK. Life isn't all about money, and I would argue that an MBA shouldn't be either. What matters is understanding what you are getting and giving up when you go for an expensive degree.
Readers, any advice for someone considering an MBA? If you've made the decision yourself, how did you determine whether or not to go for it?
The author of Well Heeled Blog is a late-20-something who recently graduated from business school. She has been writing about her personal finance journey ever since she started a Roth IRA in 2006. Her favorite meal is breakfast, and she makes a mean waffle.

—————
N.B. PLEASE KEEP YOUR COMMENTS ON TOPIC; threadjacks will be deleted at our sole discretion and convenience. These substantive posts are intended to be a source of community comment on a particular topic, which readers can browse through without having to sift out a lot of unrelated comments. And so, although of course I highly value all comments by my readers, I'm going ask you to please respect some boundaries on substantive posts like this one. Thank you for your understanding!