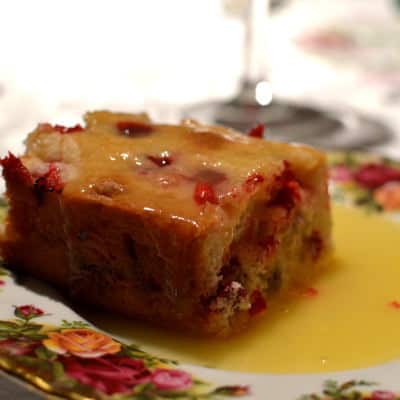 I happened to be looking at Cup of Jo recently and noticed that had a whole series where the site's various writers were sharing their signature dishes for the holidays. (These brownies look ah-ma-zing…) I immediately knew what they were talking about — my Grandma Kay's Cranberry Cake!!! — and thought it might be a fun discussion here today. What are YOUR signature dishes for the holidays, ladies? Do you have any killer cocktails, desserts, side dishes, or main dishes that you always make?
I've written before about my mom's mom, who passed away recently(ish) — but my father's mom passed away from complications from emphysema when I was far too young. (This is why, growing up, "don't smoke" was the biggest message my parents gave me, much more so than any other vices, and I'm kind of thankful they did.)
Anyway, she always made this sugary, crazy-rich cranberry cake for the holidays, and in her honor, my mom started making Grandma Kay's cranberry cake every Christmas Eve, for our family tradition of having a small, intimate dinner the night before the big family to-do at my maternal grandma's house. It's basically like a cranberry muffin drizzled with a sauce that is literally a whole bunch of butter and sugar.
(I think we inherited these Royal Albert plates from her as well.)
(Looking for something slightly healthier? I wrote about my family's signature Siggy's Salad in our last discussion on holiday recipes…)
My Family's Signature Dish: Grandma Kay's Cranberry Cake
Cake
Cream together 1 cup sugar, 1 egg, 2 tbsp butter.
Add 2 tsp baking powder, 1 3/4 cup flour, 1 tsp vanilla, 1/2 tsp salt, and 3/4 cup milk.
Fold in with spatula… 2 cups cranberries (rinsed and drained). Bake at 375 degrees for 30 minutes, or until toothpick comes out clean in center of cake.
Sauce
In small pan over low heat, blend:
1 cup sugar, 1/2 cups butter (1 stick). Melt slowly, stirring often.
Add 1/2 cup cream and 1 tsp vanilla and blend till creamy.
Ladle over individual pieces of cake.
Picture credit: my brother.
Over to you guys — what are your signature dishes for the holidays?