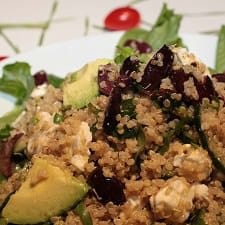 With the holidays almost upon us, I thought we'd have a holiday recipe open thread — what are your favorite things to make for family and friends? Have you gravitated towards certain recipes as a working woman (simple ingredients/short steps for easy weeknight dinners, slow cooker recipes you can start before work, etc.)?
For holiday recipes, do you like these recipes because they transport well, because they're treats or more work than you're usually willing to spend on food, because they're best made in large batches, or for other reasons? (Does anyone have any great vegetarian recipes, or healthy fruit-related dessert recipes? Trying to add some of those to my wheelhouse.)
For my $.02 — yes to all of the above for why we choose what holiday recipes to make for family and friends! I also try to make something healthy for larger gatherings, particularly veggies that I'm happy to fill my plate with.
For Thanksgiving in a few days, we're planning to make a salad that we always call "Siggy's salad," after a restaurant that used to be down the street from our apartment but then sadly changed locations, moving farther away. I never seem to get to the actual restaurant in its new location, so we've duplicated the recipe as best we can — it can be a bit of work, so we primarily make it for larger gatherings. (The picture at top is from the restaurant's website.)
Our recipe isn't so much a "recipe" as "an approximation of the salad we remember" — the way it's served at the restaurant the salad greens are about 50% of the plate, possibly even 40% — so the quinoa, olives, avocado, feta, and cucumbers all play pretty big roles in about equal percentages.
Siggy's Salad (serves 6-8)
Quinoa (cooked, chilled) – about 1.5 cups
Baby greens – 2 clamshells
Kalamata olives, sliced/chopped — if you can find them pre-sliced it's hugely helpful. For a large family gathering I'll drain and dump an entire jar (or more!) into the salad.
Avocado – 1-2 sliced/chopped avocado, to be added right before you serve the salad and mixed with the rest of the ingredients (store with the avocado stone if you want to chop it before you get to where you're going).
Feta – 1.5 containers — you can do reduced fat if you like, here.
Cucumbers – 2 chopped cucumbers
Lemon vinaigrette (we've found this recipe elsewhere on the Internet and liked it:)

0.5 cup olive oil
3 T fresh lemon juice
1 T minced shallot
1.5 tsp Dijon
0.5 tsp grated lemon peel
0.5 tsp sugar
It's an unusual salad (for us, at least) and a yummy treat. We're still getting the ingredient proportions just right, though — and we often make adjustments on the fly, so pardon the vagueness!
Ladies, let's hear from you — what are your holiday recipes as working women?