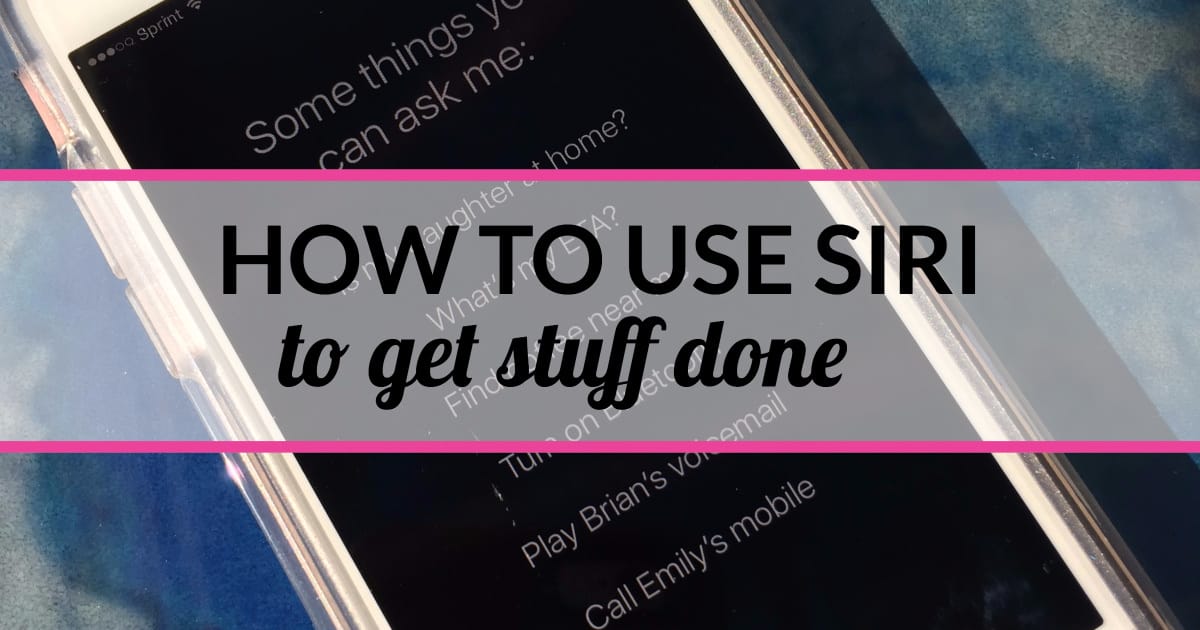 Since getting my iPhone 7, I have been shocked to find that I'm actually using Siri. I thought I'd look into some useful Siri productivity hacks to share, as well as ways to make Siri better (there has to be a way, right?) for a fun discussion today.
Are you using Siri to boost your productivity? (Or Cortana, or Alexa, or Google Home?) What are your favorite Siri hacks for productivity and otherwise getting stuff done?
(And a general question that's more office-related: In general do you use dictation as an office hack, either via dictation software or dictating memos for your assistant to transcribe?) 
My favorite Siri hacks for productivity thus far:
Use Siri as an easy Pomodoro timer.
I really like the Pomodoro technique for time management, but for some reason, I've never found a Pomodoro timer I liked — and going in to reset the timer on my phone manually has proved onerous. (I know, I have problems.) But I find it incredibly easy to say, "Hey Siri, start timer — 25 minutes." 
(I actually listened to a whole podcast about how some people find other increments of time to be more productive, so I've been experimenting with 35, 45, and 55 minutes, on the theory that those were always good for me as far as class times.)
Then, when the timer dings, I'm pretty good getting better about saying, "Hey Siri, start timer — 5 minutes," to take my "get up and move" break.
Use Siri to read messages when your hands are unavailable.
This is a great Siri hack for when you have wet nails, your hands are messy from making dinner or dessert, or even if you're driving (where your focus should obviously be on the road). 
She has some crazy ways of pronouncing things, but I always understand her well enough to know whether the text message is one requiring an immediate response or not.
Plus, it's amusing when she says "yellow thumbs up yellow thumbs up yellow thumbs up."  
Siri also gives you the opportunity to respond to the text message verbally and reads back what she's going to send before you press send.
Prepare your phone for Siri by renaming certain contacts.
I've always listed my husband by his nickname in my phone, but after I started using Siri I changed it to his full, multi-syllable name — she almost always gets it right on the first try.
(I did this after a funny incident where I tried to text him that I had arrived at a restaurant ("Here!"), Siri got confused, and my high school and college friend who's an ER doc responded, "Wait, WHAT?" thinking (jokingly) I was showing up in her ER.)
Siri hacks for productivity I've heard of but am still perfecting myself:
Use Siri to request a specific song, artist, or genre.
Here's my story on this one: It worked great for a very short while — for some reason, I got in the habit of requesting Ferron's "Misty Mountain" whenever I had a down moment, and Siri would pull up the song and all would be great. 
Then, for some reason, I decided I'd prefer Siri to have a British accent instead of an American one, so I switched her to that. It seemed like her understanding of me diminished incredibly (perhaps they expect Siri's accent to line up with yours?) so I switched her back to an American accent. 
Since then she's been absolutely lousy at pulling up songs — for some reason every time I say "Siri, play the song Misty Mountain by Ferron" she starts playing a random Sarah McLachlan song, which for some reason enrages me.
Use Siri to dictate emails, short memos, or more.
A short text message I can do easily, but my main problem when using Siri to dictate something longer than a short text message is that she takes my natural speech pauses to think we're done, and then she says something, which interrupts my thoughts.
I've used Dragon Naturally Speaking in the past, but I was never an expert at it.  
(I'll also note that if you have a TON of this stuff, the app Rev is supposed to be amazing — for $1 a minute they will transcribe your recordings. Obviously, know your office and your job before you try to outsource work memos.)
Use Siri to search the web.
To be honest I've had more luck using Alexa here; we regularly ask Alexa what a restaurant's hours are, or what the weather is, and more… but for some reason this hasn't been on my radar of Siri tasks.
Use Siri to create reminders.
I've started to try to use this feature more, but to be honest, a lot of times I feel like my reminder notes go into the ether instead of going into the Reminders app.
I'd love to hear from you guys: Do you use any Siri hacks to boost your productivity? How about Alexa, Cortana, Google Home, and more?
(Will someone please create a "Siri dictating game"? It would be awesome if it were like an old school Mavis Beacon typing game, k thx.) 
Further reading: