Have you ever watched a television show or movie and thought, WOW, I totally want that outfit? Did you know that there are actually a NUMBER of sites where you can find anything worn in TV shows or movies?
After all, work outfit inspiration can come from anywhere , and why not take it from our favorite characters?
Sites to Find Anything Worn in TV Shows or Movies
Worn on TV
Worn on TV is one of the main ones that I've known about and loved for years — their content is pretty thorough, and their picks are spot on.
I like that you can search for fictional shows (including soap operas) as well as reality TV shows, news, and talk shows. Curious what Savannah Guthrie is wearing? Looking for style inspiration from Julie Chen on Big Brother? They've got you covered.
Here are some of the latest fashions from Partner Track, something the readers have mentioned as one of their favorite TV shows for workwear inspiration…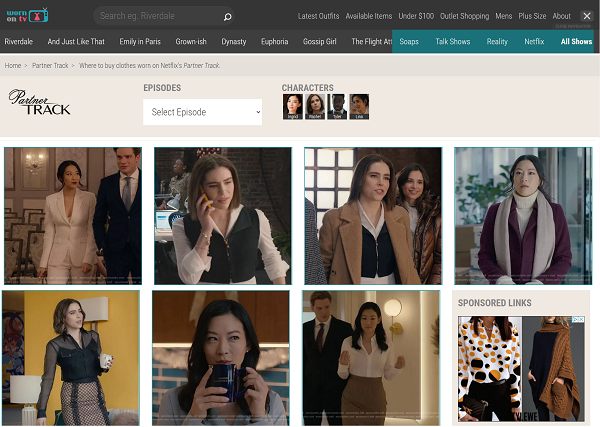 Shop Your TV
ShopYourTV.com is another of the greats — they cover a ton of fictional TV shows, reality TV shows, and talk shows. They source their info by taking submissions from readers in their Facebook group, as well as getting information from PR companies.
Just to compare apples to apples, let's look at their content for Partner Track:
Spotern
Spotern crowdsources "everything appearing in movies, TV series, shows or video clips." They note that everybody is welcome to contribute on Spotern; you can even earn money by helping them source products. You can ask for a premium account once you've sourced 10 items.
This is the Spotern page for the character of Marla Grayson from the movie I Care a Lot; you can see that some products are a perfect match, others are close matches, and still others are "wanted."
Steal Her Style
StealHerStyle.net tracks down the clothes worn by your favorite female celebrities, primarily in interviews, music videos, and street style. It's helpful to know which celebrity you're interested in, and not everything is terribly complete. For example, the Taylor Swift content is really up-to-date, whereas the Mary Kate Olsen content is not only outdated but unhelpful. (Did we really need to know that there's a boxed hair color that might be similar to hers?)
They sometimes (but not always) do handy pins like this one:
Seek-Shop.com
A hat tip to Vogue for introducing me to Seek-Shop.com, a site that hunts for clothes worn on shows and films.
They do not have a ton of content just yet, and what content they do have is a bit odd — they do have some clothes worn by characters on shows like Gossip Girl, Succession, and Hacks, but a pretty limited selection. They also include collaborations inspired by movies like Dune or TV shows like Bridgerton.
Here's what the page for clothes from Succession looks like — when you mouse over the product you see a still from the scene where the character wore it.
Honorable Mentions for Sites to Find Clothes Worn on TV
There are a ton of royal fashion bloggers, of course — Town & Country just did a great roundup.
Another option: the subreddit r/findfashion (although that one can be super random; e.g., the most recent post today is a dress from Sabrina the Teenage Witch (and I am so old I just wrote Clarissa the Teenage Witch, sigh.)
Readers, do you know of any other sites where you can find anything worn in movies or TV?