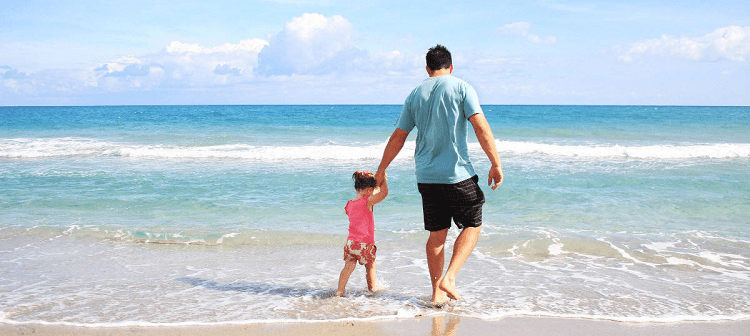 How can you be supportive of a stay-at-home dad or mom? We've talked about how to prepare to be a SAHM, but not about how to support your stay at home spouse, so let's discuss. Here's Reader L's question:
I want to find ways to encourage and be supportive of my husband, who is a stay at home dad to our six-month-old son for two months now. I'm a second year associate at a mid-sized firm.

Our game plan has always been for him to stay at home with our kids and he was very enthusiastic about it. I know he loves our son, but he is having a tough time being "on" all day with the baby.

I've suggested that we find a sitter or a day care we can use a few times a week, but he gets very defensive about that. I'm doing everything I can to help him with the baby and keeping the house clean.

I want to believe that it will get better with time, but I just don't know. I'd love to hear what others' experiences have been.
Great question, and I'll be fascinated to hear what the readers say. Although I'm more of a WAHM (work at home mom) than a SAHM (since I'm only without childcare/daddy for about 12 hours a week), here are a few thoughts of my own for any stay-at-home parent:
– Recognize that loving your child has nothing to do with loving childcare. Before I had a kiddo, my idea of being a SAH parent involved playing games, reading books, and gazing lovingly into your child's perfect little eyes. The reality is that childcare is hard work, particularly in the early years, involving a lot of cleanup (yes, diapers, but also thrown food, dumped toy bins, etc) and mind-numbing repetition (watching him fill and dump the bucket of water AGAIN/reading the same book for the third time in twenty minutes/etc), all interspersed with moments of terror (why are you trying to do a somersault from the windowsill?!?). Not everyone is cut out for childcare, and it isn't defeat to admit that and adjust accordingly (either by just resetting mental expectations or finding outside childcare).
– Make opportunities for adult conversation. Finding friends to have playdates with is essential! Because Reader L's son is too young to really "play with" other babies, this is more about finding other stay at home parents with whom your husband gets along. (You can still be friends with parents who work at home or work outside the home, obviously, but for scheduling availability purposes it's really best if he finds other stay-at-home parents to befriend.) When you get home at night, he may want to talk (so. much. to. say!) or he may just need to go lie down and take 10-15 minutes to himself. Every person is different, and you two need to communicate to figure out how best to support him.
– Schedule, schedule, schedule. The nap schedule is key to give both daddy and baby a rest throughout the day (and no one enjoys a baby/toddler in meltdown mode), but other regularly scheduled activities are also immensely helpful in planning your days. At six months, a music class or a daddy/baby yoga class might be a good idea; your local library may also offer story time. (At this point, classes are more for your husband's benefit than the baby's, so spend accordingly.) As your son gets a bit older he may enjoy a music class or a tumbling class. Here in NYC almost every neighborhood has a parenting listserv and/or a Facebook group where you can find out about new classes; there are also big chains like Gymboree to look into.
– Hire a housekeeper. Hiring a housekeeper can be a big help — mentally he's home all day so he wants to live in a nice space, and having a baby means you suddenly have a lot more mess (how did he manage to fling applesauce so it landed on the inside of the lampshade?). Being able to enjoy a clean space without having to spend hours cleaning it yourself is a big deal.
– Allow time for personal/professional time. Yes, babies sleep about 16 hours a day, but it's wrong to assume that the parent will still have energy to get any work done during those exact hours. Having a regular babysitter come in for a few hours a week can give your husband a chance to schedule lunch with his old friends/colleagues, to keep an eye on his career/industry, or even just to go out and get a haircut or go to the gym. Having a regularly scheduled babysitter for date night is also important!
Readers, do any of you have husbands, wives, or partners who are stay at home parents? How do you support them, particularly in making that transition from worker bee to full-time parent?
Picture via Stencil.