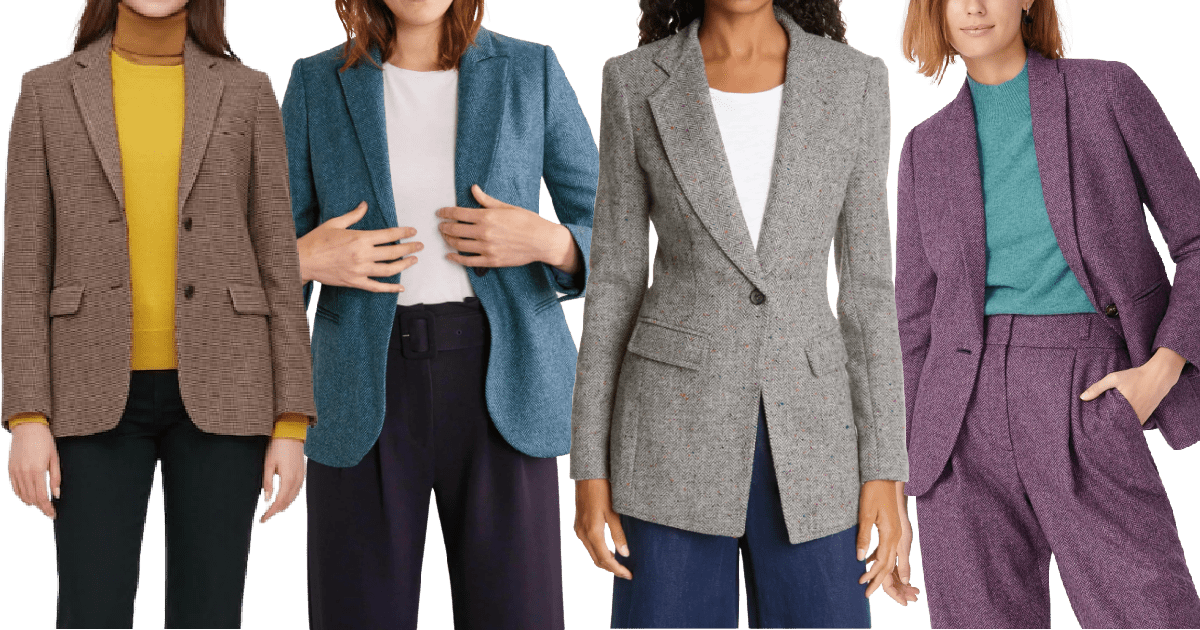 2020 Update: Tweed blazers! brown / teal / gray / purple (also check this brand)
Sure, we all know what basics professional women are supposed to have in their closets, but if you're buying one for the first time or replacing one you've worn into the ground, it can be a pain to find exactly the right incarnation in stores. In "The Hunt," we search the stores for a basic item that every woman should have.
I've said it before, I'll say it again – I love a good wintry blazer, usually to keep at the office or use as a lighter layer in fall weather. Velvet is indeed having its moment, so this hunt is heavy on stylish velvet blazers for work — but we've also included tweed, wool, and other heavyweight fabrics. (Interestingly, corduroy blazers are difficult to find at the moment!) Ladies, do you wear heavyweight blazer separates to the office — and which fabrics are your favorites? Gotten any great winter blazers lately?
2020 update: velvet blazers! black / red / green / black
Looking for an older roundup? Here's our 2015, 2014, and 2013 round-ups.
I'll grant you, this one's a little out there — velvet and a cape — but it's also the most affordable, at $44. Here are my thoughts: the WhoWhatWear collection at Target has been pretty reliably good, and the "cape-blazer" is on-trend and — if you're looking for something festive to wear to a holiday office party or the like — this is a good option. It's available in regular and plus sizes. Women's Cape Blazer – Who What Wear
For a more traditional look, this $89 velvet blazer is hard to go wrong — love the dark burgundy here. Sizes are pretty limited, alas. Velvet Blazer
Ooooh: I love this heavy wool version from Uniqlo. (It apparently at one point had a matching skirt, but I can't find it online — these pants look like they match, though.) There isn't much festive about this, but if you're looking for a heavy weight but affordable blazer, I'd start the hunt here. Sadly, it seems to only be available in sizes XS-M at the moment. Carine Tweed Jacket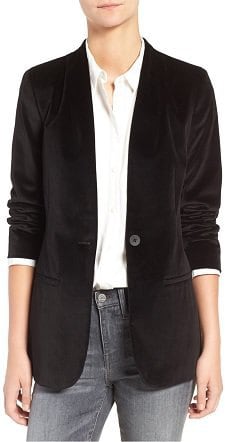 There are a zillion black velvet blazers in this price range, but only this $89 blazer and the pictured $158 blazer have a lot of sizes left — several others are almost entirely sold out. I like that this one is only $158, collarless, and available in sizes 00-12. Lauren Velvet Blazer
The Regent blazer has been around for years, with new colors and patterns coming out in seasonal fabrics like linen in summer and tweed in winter. In somewhat exciting news, the Regent blazer just got a matching pant, at least for the colors that come in their super 120s suiting fabric. This pictured blazer doesn't have a matching pant, but that's probably a good thing — but I love that happy purple houndstooth. It's $248 full price, but use code SHOPNOW to take 25% off. J.Crew Regent Blazer
YAASSSS. There is always a seasonal iteration of the Smythe blazer, and I'm dying over this green velvet version, at Nordstrom. I love the fitted, tailored style, and the emerald velvet looks lovely and plush. It's $695, available in sizes 4-8. Smythe Velvet Blazer
Like this feature? Check out other recent installments!