Sure, we all know what basics professional women are supposed to have in their closets, but if you're buying one for the first time or replacing one you've worn into the ground, it can be a pain to find exactly the right incarnation in stores. In "The Hunt," we search the stores for a basic item that every woman should have.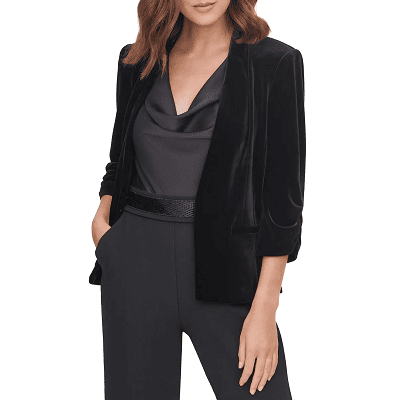 Velvet blazers can be great festive blazers for office holiday parties — but they can also be great work outfits in their own right! I thought we'd round up some of our favorite stylish velvet blazers.
Ladies, do you wear heavyweight blazer separates to the office — and which fabrics are your favorites? Gotten any great winter blazers lately?
Our Latest Favorite Stylish Velvet Blazers for Work Outfits and Office Holiday Parties
Hunting for festive blazers for 2023? Stay tuned for a bigger roundup, but on the affordable side we like J.Crew Factory and Loft — and this Eliza J one is almost always in stock. On the more expensive side, check Reiss, Paige, and L'Agence.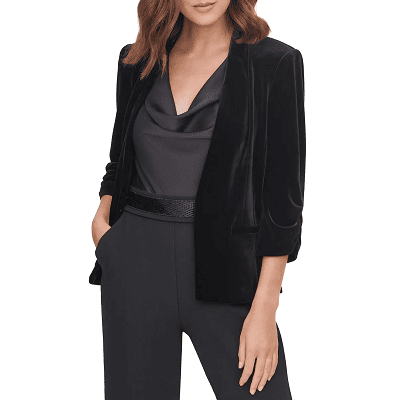 Special Occasion Suits for Women in Velvet, Jacquard and More
Reiss
I'm drooling over this pants suit from Reiss. I love the dark but bright shade of blue, as well as the tone-on-tone styling. Also with regard to the styling, I'm always a fan of the rockstar scarf-worn-loose look with suit jackets, and I think it's clever to do it with an untied secretary blouse/pussybow blouse — but the ties at the wrists are confusing.
In any event, the suit is gorgeous. The blazer is $540, available in sizes 0-14 (pre-ordered but many sizes sold out?!) and the pants are $330.
Lafayette New York 148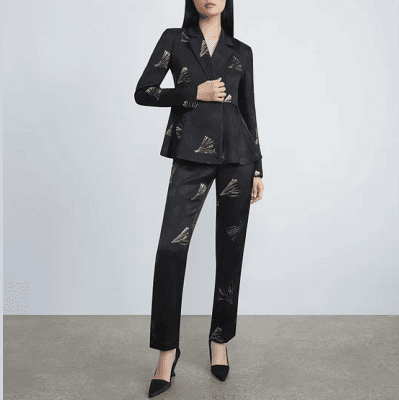 This one is a bit on the party side of suits, but it is almost that time of year… in any event, I really like this unusual print and suit from Lafayette 148 New York.
The leaf print is apparently part of their latest designs, with dresses, tops, pants, and more all featuring some variation of the leaf print. I really like it, though; it's so much more interesting than an abstract print or a more boring, regular print.
(Something about it has a slight rock and roll vibe to it? It reminds me of this Gucci suit as worn by Jenna Coleman, #19 on this list from Harper's Bazaar of celebrity trouser suits.)
The blazer is $1990 and available at Lafayette 148 New York and Neiman Marcus; the pants are $1498.
Other Warm, Wintry Blazers for Women
Like this feature? Check out other recent installments!