2019 Update: We still think the festive blazers featured here are great for work and holiday office parties — check out our updated picks for festive blazers below!
Sure, we all know what basics professional women are supposed to have in their closets, but if you're buying one for the first time or replacing one you've worn into the ground, it can be a pain to find exactly the right incarnation in stores. In "The Hunt," we search the stores for a basic item that every woman should have.
I seem to recall that some readers were dubious about this the last time I posted that a festive blazer was a must-have, but I'm 100% serious here. Velvet is my fabric of choice — the matte fabric is more office-friendly than a metallic blazer, and — should sequins enter the picture, such as the tank I posted this weekend or one of the sequined miniskirts we're seeing this season — velvet holds up much better than, say, lace. I fondly remember buying my first velvet blazer — I had been hunting for weeks, desperate for something to wear to my 10-year high school reunion, held around this time of the year in a local bar famous for its wings. I wound up getting a single button , violet purple velvet blazer from Anne Klein (on sale for around $50!) with a great peplum flounce in the back. I wore it to my high school reunion with jeans and, having just recently lost a lot of weight, felt like hot stuff the whole night. (Why yes, the former quarterback did ask for my number — so what if he was divorced and balding with a 10-year-0ld kid?) Anyway: for $50, I would have been perfectly happy if I never wore the blazer again. But I was amazed how much use I got out of it — I wore it to the office with gray trousers. I wore it to the staff holiday party with a black sheath dress. It became my go-to blazer for desk-to-dinner outings with friends. I think I finally hung it up around Valentine's Day… but happily pulled it out the next November. If I were buying one now, these would be the ones on my list. Readers, do you consider a festive blazer a must-have? Have you bought any great ones recently (or have any victory stories about old favorites, like mine, to share)?
More Recent Picks for Festive Blazers (11/19 Update)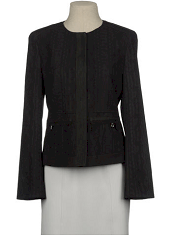 This T-Tahari blazer is the lowest priced, fitted blazer that I could find that I would want. Love the jacquard, vertical pattern, the contrast trim, and the price: $108 at Yoox.com. T-TAHARI Blazer
Corduroy is another option if velvet isn't your deal — it's a bit less festive, but that just means you can get more wear out of it at the office. I like this equestrian-themed one from White House | Black Market — the grosgrain details and cutaway front look great. It's $128, sizes 00-16. Corduroy Equestrian Jacket
Le sigh: gorgeous. This Rachel Zoe blazer (also pictured in purple at the very top of this post) is "inspired by the leisurely luxury of vintage men's smoking jackets," and it looks it. I'll bet the velvet is extremely soft for the price, too: $425. (The black is at CUSP; the purple is at Neiman Marcus.) Rachel Zoe Hutton Velvet Blazer, Black
I prefer the sumptuousness of velvet to the stiffness of brocade, but that's me — this metallic brocade blazer is really gorgeous. (Also: I finally know what to wear my orange leather pants with!) The blazer is $485, available for pre-order at Nordstrom. Alice + Olivia 'Elyse' Metallic Brocade Blazer
I have mixed feelings on lace — love it for nights out and weddings; but usually hate it for the office. Still, for a festive jacket, I like the look of this electric green one from Nanette Lepore — such an unusual color, and I think the lace overlay/colorblocked look works here. It's $498 at Nordstrom. Nanette Lepore Lace Jacket
Like this feature? Check out other recent installments!