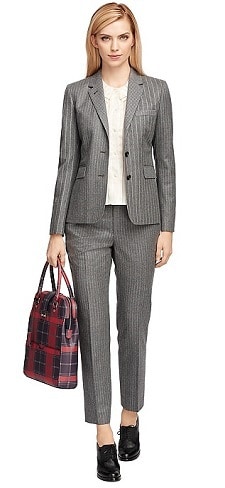 For busy working women, the suit is often the easiest outfit to throw on in the morning. In general, this feature is not about interview suits for women, which should be as classic and basic as you get — instead, this feature is about the slightly different suit that is fashionable, yet professional.
Happy Wednesday! The stripes on this jacket are so fun — it's a really witty take on such a classic look.  I love the different thicknesses of stripes (the pockets! I die), the gorgeous gray wool, and I love the ankle pants as styled with the oxfords. (I can't find the ones pictured on the BB website, but here are two similar pairs at Zappos.) Lovely. The jacket (Brooks Brothers Black Fleece Wool Stripe Jacket) is $850 and the pants (Brooks Brothers Black Fleece Wool Stripe Skinny Trousers) are $450.
Here's a lower-priced option (jacket + pants).