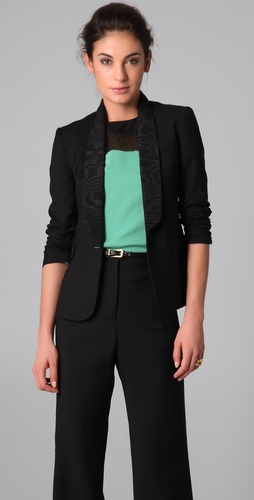 For busy working women, the suit is often the easiest outfit to throw on in the morning. In general, this feature is not about interview suits for women, which should be as classic and basic as you get — instead, this feature is about the slightly different suit that is fashionable, yet professional.
If you're in the market for a lady tuxedo this season, my vote goes to this chic one from Diane von Furstenberg. Those cool lapels (moire) and almost a boyish cut to it — it's very, very cool. I think the jacket would look nice on top of a sheath dress as well as worn with the pants. The jacket (Diane von Furstenberg Meyer Tuxedo Blazer
) is $465, and the pants (Diane von Furstenberg Tailor Tuxedo Pants
) are $345.