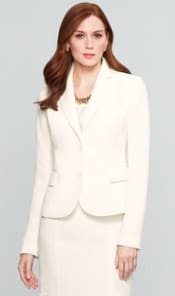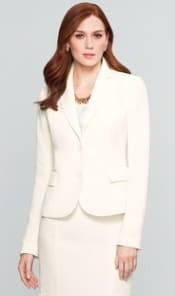 For busy working women, the suit is often the easiest outfit to throw on in the morning. In general, this feature is not about interview suits for women, which should be as classic and basic as you get — instead, this feature is about the slightly different suit that is fashionable, yet professional.
Happy Wednesday! I'm not a huge fan of the white suit myself — I'm sure even if I were being careful I would somehow end up with ink/food/city/toddler stains on me within minutes — but if YOU can pull it off, check out the sale at Talbots, where the seasonless crepe suit is is part of the store's big Red Hanger Sale. There are limited sizes left of all of the pieces in other colors, but ivory is the one consistently in stock. (Even there, the "misses" skirts are nearly sold out — but if you check on petites there are a ton left and might be worth a try if you prefer a slightly shorter hem than what's pictured anyway). The jacket pictured above (Talbots Seasonless Crepe Two Button Blazer), available exclusively online, is down to $90 (was $199), and a peplum jacket (pictured below) is also down to $89.  The pants (Signature Seasonless Crepe Straight-Leg Pants) were $119, but are now $54. There are two matching skirts offered: the pictured one, (Seasonless Crepe Flounced Skirt), was $99 but is now $42; there is also a trumpet skirt for $42.
P.S. Quite a few of our prior Suit of the Week recs are on sale — we've rounded some of them up on Pinterest.
P.P.S. What do you think of this new longline blazer from ASOS (with matching shorts)? Is this the 2014 version of the Ally McBeal-era short-skirt-long-jacket?