2018 Update: We still think this is a great discussion about summer workouts, but you may also want to check out some of our more recent posts on exercise and busy women, including gym near the office etiquette tips.
When it's hot and muggy out, it can be difficult to stick to your regular workout routine, whether it's running outside, walking to/from work, or doing a studio class like barre. So let's hear your thoughts on summer workouts! Do you tend to exercise less during the summer? Do you move your workouts inside (perhaps with the help of a personal trainer?), or do you simply switch your summer workouts to mornings or evenings, when it's cooler? Maybe you're a hardcore runner who still goes for several runs a week and trains for the many 5Ks, 10Ks, and other races offered in the summertime — or maybe the closest you'll get to vigorous exercise this summer will be watching the Olympics next month. It's been a long time since we last talked about summer workouts for busy women, so let's chat about it today!
Before we hand it over to the readers, we'll share a few general tips for summer workouts from our last discussion:
Go swimming
It may go without saying, but: swim laps in the pool, go to the beach, or try some pool exercises like these from Shape. Just don't forget: If you're going to be swimming for an hour or more, it's still important to stay hydrated — yes, you can still sweat in the pool — so make sure to drink water. By the way, in case you missed it: Check out Kat's recent roundup of swimsuits!
Choose something low-key
In our last discussion on summer workouts, one reader shared that she takes her dog for evening walks in a shady park near her home. She commented that it's has been a win-win: She's getting regular exercise, her dog has become healthier and better socialized, and she's met a lot of her neighbors (and their dogs). For the nights you're not in the mood to meet neighbors, try one of our podcast recommendations. (But of course: be safe and aware of your surroundings, whether you're plugged in or not!)
Move your summer workouts indoors
As you may have noticed, Netflix no longer streams workout videos, but I just found out (as in, two minutes before writing this) that Amazon Prime still has 500+ exercise videos you can stream for free with your Prime membership, including yoga, pilates, kickboxing, strength training, and more. Not a Prime member? Try these recommendations from Shape, Lifehacker, and Buzzfeed for the best YouTube channels, and don't forget to check your local library's DVD collection.
Psst: Looking for great workout shorts? See reader favorites and more in our recent roundup of the best women's shorts for summer…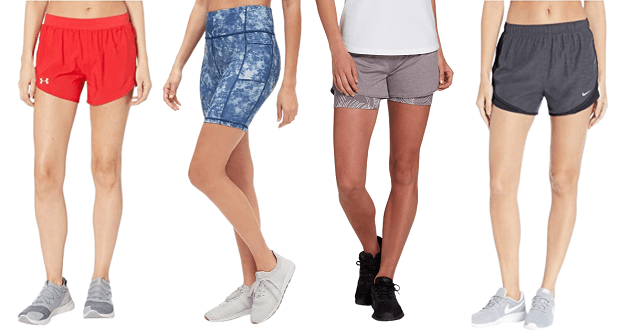 Under Armour / Gap / CALIA / Nike Dry Tempo
So, tell us: How do you change your workout routines when it's hot and humid? What are your favorite summer workouts? Do you stick to air-conditioned spots like your gym or your home, or do you still go outside for summer workouts despite the heat? Are you currently training for a summer or fall event like a 5K or marathon?
Pictured: Pixabay