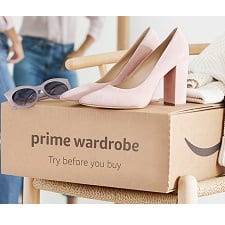 Curious about Amazon Prime Wardrobe, their new try-before-you-buy shopping option? Kate just tried it, so I asked her to write about her shopping experience for us… – Kat
Now that Amazon is expanding its try-before-you-buy feature to more customers, we thought it'd be a great time to share a review of Amazon Prime Wardrobe. Last summer, when Amazon originally announced Prime Wardrobe (presumably created to compete with Stitch Fix, Trunk Club, and so on), it wasn't available to all Prime members — and it still isn't.  Currently, the FAQ says, "Prime Wardrobe is currently available by invitation to Prime members. Prime members can request an invitation at amazon.com/pw-learnmore." I never requested it, so I guess I just got lucky (although it could be because I'm a very frequent Prime user).
Psst: Regarding online shopping in general, we've also talked about how to get your money back on returned online purchases, the best online shopping apps for deals and more, and had a great discussion with readers on their favorite online shopping destinations.
Here's my review of Amazon Prime Wardrobe: