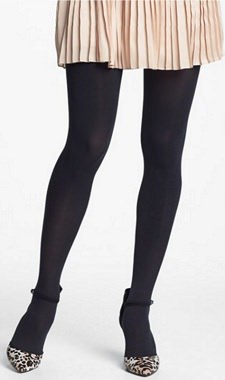 Which are the best tights for work, and where can you find them? What about half-slips for underneath workwear? Reader K wonders…
I work in a very casual office, but with winter upon us, I would like to change up my typical pants/sweater wardrobe to add more tights. Can you do a post on the best tights out there? The best opaque, the best durability, the best for patterns/textures, and best quality for price. I'm a bit overwhelmed by all the offerings, and without knowing which brand seems to have the greatest appeal, it's hard to invest $20 (or more) for what amounts to a pair of tall socks. Along with that, where on earth do we find half-slips anymore?
Great question, Reader K. We haven't talked about tights in a while (and it's been eons since we talked slips!), so let's discuss.