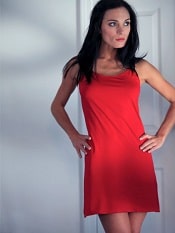 2017 Update: We still stand by this advice on what to wear beneath wrap dresses; if you're looking for more current advice on which are readers' go-to underwear picks, check out our more recent discussion of the best lingerie for office looks. 
What do you wear beneath wrap dresses? Are there camisole-slips? Reader V has an interesting question about what to wear beneath clothes that I think leads us to a great larger question: what are your favorite brands and pieces in slips, camisoles, support garments, pantyhose, and more?
I have a question re slips. I understand that people wear them (even the non-control ones) to even out the lumpy-squishies, make things less sheer, improve drape, etc. But for an unlined v-neck or wrap dress, where one might want help with smoothing out lumps and VPL and sheerness, what if you also want to raise the neckline. Are there camisole-type slips that are designed to be seen (so maybe in white or black, depending on the color of dress; not nude-for-you)? I'm not sure what to do for something like a DVF wrap dress — I want to wear a slip, but don't want to slip up. Thoughts? Suggestions? Thank you!
This is a great question. We've talked about how to keep wrap dresses closed, but not what to wear beneath wrap dresses. While reading her answer I found myself going through the things that I would wear beneath a wrap dress:
What to Wear Beneath Wrap Dresses
 camisole (here's our last roundup of great camisoles — based on reader suggestions I might upgrade my collection to a half-camisole, such as this one)
half-slip on the bottom (similar to this)
Now that's a lot of undergarments.  That said, I've had bad experiences with "control" slips, so even though they exist I'd probably stick with my loose, comfy half-slip and tights/shaper.  And while I have full slips, none of them have nice enough fabric (or are cut high enough) that I would use them if I wanted to raise the neckline of a dress — they're definitely undergarments.  That said, I wear wrap dresses once in a blue moon (they're just not that flattering a style on me!) so it hasn't been worth it to me to hunt for a perfect slip — but I could see that being a must-have if one loved wrap dresses. Doing a quick hunt around the Internet, this (pictured, available from Adea for $89), this, or this look like they might be good options.
What's Your Favorite Lingerie for Work?
But then I started thinking — Angie at YouLookFab just did her roundup of the support undergarments she recommends all the time, and we haven't had a similar discussion in forEVER (here's our last discussion about favorite panties to prevent VPL). So — let's talk! Please answer the following in your comment:
– Favorite panty
– Favorite bra
– Favorite slip
– Favorite camisole
– Favorite pantyhose
– Favorite support garment
– Favorite other
It's always a bit embarrassing to admit these things publicly, but here's my personal list:
– Favorite panty – Maidenform cotton boyshorts
– Favorite bra – Fantasie
– Favorite slip – (I think I bought my last few slips at Century 21 in lower Manhattan — they're maybe Vanity Fair or some similar budget line)
– Favorite camisole – Like I've said before, I've always liked cheaper ones like Old Navy/Loft — but I will definitely check out a half-bra such as this Gap one (25% off today), recommended by the readers in our last discussion
– Favorite pantyhose – I have yet to find a favorite, but I would probably try Spanx (since I love their tights)
– Favorite support garment – Spanx In-Power Line– panties and thigh-length. To me, these two pieces (in a nude-for-me beige) are versatile enough to wear beneath almost everything I own.
– Favorite other – I got a Dr. Rey "body briefer" at a blogger event a while ago and must say I'm kind of amazed — it definitely sucks you in. Is it comfortable? No. Can I pee in it? Not really. But does it actually make me look 10 pounds thinner? Yep.
So let's hear it, ladies — what's your advice for what to wear beneath wrap dresses when you want to raise the neckline, protect against unwrapping, and prevent static/bunching?  Care to play — what are your favorite brands in general for undergarments and other lingerie for work?