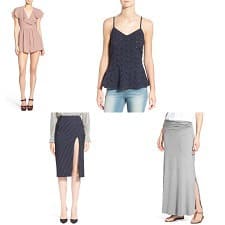 2018 Update: We still stand by this advice on what not to wear to work, but you may want to check out The Ultimate Guide to Business Casual for Women and our Corporette Work Outfit Challenge.
Here's a fun question as we slide into summer with lots of summer interns and summer associates: what NOT to wear to work?  Obviously: every office is different, so know your office.  My usual guidelines for readers are these:
If it's on this list (below) of questionable items, do NOT wear it until you've seen your boss several midlevels wear it. Note that these people do not count as "your boss:" another summer intern, a staffer/subordinate, or someone else very junior at the company (e.g., a first-year associate). (See the interesting discussion in the comments — a lot of bosses have earned their right / have enough credibility to get away with dressing however the heck they want — just because they feel ok about wearing something doesn't mean they'd want to see a summer intern or first-year wear it.)
When in doubt, stick with classics. If it wasn't commonly worn as workwear five years ago, question whether it's appropriate at your conservative office — classic styles and prints tend to go over best. Track pants, culottes, ballerina-style lace up shoes… these are in a different ballpark than pencil skirts, button-front blouses, sheath dresses, and blazers.
If it makes noise at all, it isn't appropriate for the office. Cheap fabric — arm parties — loud necklaces — any sort of a shoe that makes a loud sound: be wary.
(Pictured at top, in case you like them for the weekend or evenings, clockwise: romper / eyelet cami / maxi skirt with slit / pencil skirt with slit.)
My list of "please do not wear this to your conservative office" would include: