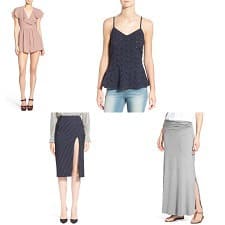 2018 Update: We still stand by this advice on what not to wear to work, but you may want to check out The Ultimate Guide to Business Casual for Women and our Corporette Work Outfit Challenge.
Here's a fun question as we slide into summer with lots of summer interns and summer associates: what NOT to wear to work?  Obviously: every office is different, so know your office.  My usual guidelines for readers are these:
If it's on this list (below) of questionable items, do NOT wear it until you've seen your boss several midlevels wear it. Note that these people do not count as "your boss:" another summer intern, a staffer/subordinate, or someone else very junior at the company (e.g., a first-year associate). (See the interesting discussion in the comments — a lot of bosses have earned their right / have enough credibility to get away with dressing however the heck they want — just because they feel ok about wearing something doesn't mean they'd want to see a summer intern or first-year wear it.)
When in doubt, stick with classics. If it wasn't commonly worn as workwear five years ago, question whether it's appropriate at your conservative office — classic styles and prints tend to go over best. Track pants, culottes, ballerina-style lace up shoes… these are in a different ballpark than pencil skirts, button-front blouses, sheath dresses, and blazers.
If it makes noise at all, it isn't appropriate for the office. Cheap fabric — arm parties — loud necklaces — any sort of a shoe that makes a loud sound: be wary.
(Pictured at top, in case you like them for the weekend or evenings, clockwise: romper / eyelet cami / maxi skirt with slit / pencil skirt with slit.)
My list of "please do not wear this to your conservative office" would include:
short shorts or rompers (hahahaha)
miniskirts, or skirts with a very high slit in front or back. The sweet spot for a flattering but work-appropriate length is just above or at your knees — the fingertip test does not work for conservative offices.
maxiskirts or maxidresses, barring some good reason (e.g., religious reasons)
spaghetti straps or anything else that shows your bra / requires you to wear a special bra (halter tops, strapless tops, etc). At least, this is true when they're worn by themselves, not as a layer under a cardigan, blazer, or as a layering piece under a blouse or dress.
flip flops, even if they're leather — they may be fine for commuting shoes but I'd change into proper shoes immediately upon getting in to the office, if not just outside your office
anything exposing cleavage or cutouts (or, hahahaha, croptops)
pants of any type that are skintight, whether it's leggings, ponte pants, or ankle pants that are skintight
My list of "know your office really well before you wear these to work" would include:
sandals and peep-toe styles
sleeveless tops and dresses, worn by themselves without a cardigan or blazer over them — this includes sleeveless vests and blazers (see our last discussion on whether sleeveless is professional)
lace / eyelet / sheer blouses or details
jumpsuits — I still think jumpsuits are best kept for weekends, but there are a ton of workwear companies showing these as a new suiting separate.  My best advice here: if it is readily apparent you're wearing a jumpsuit, don't wear it to work.  If it just looks like a nice blouse and pants that is super-neatly tucked, go right ahead . . . after you know your office really well.
anything denim – I've seen some really cute denim suiting separates and (ahem) have even recommended denim blazers here for outerwear and casual offices — I wouldn't wear these around a conservative office until you've seen a superior do it.
any five-pocket style of pant that is cut like jeans (e.g., twill pants, some linen pants, etc)
short boots in the summertime — I'm sure they look adorable! But know your office really well before you try them for workwear.
bermuda shorts, culottes, track pants, skorts — be very, very wary.
Finally: I think ankle pants should be fine at this point, because they've certainly hit market saturation — but I'd still think of them as best for casual days until you see how and when your boss wears them (e.g., with heels only, with a really tailored top, etc).
Ladies, what are your thoughts for what not to wear to work? Do you agree with my two lists — would you move anything from my "please do not wear this to work" to the "maybe you can wear it to work" list?