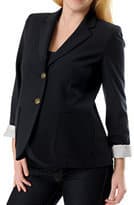 2018 Update: We still think this is a great discussion of taking a new job while pregnant — but you may also want to check out our recent discussion of where to find an interview suit if you're pregnant.
Should you look for a new job while trying to get pregnant?  If you're already pregnant, should you take a new job without telling your new employer what's what? Reader S has a great question about this very subject.
I have a dilemma. A while ago I applied for a great government job that is only 2 years with the possibility of extension. I was prepared to take that risk. Had the interview and didn't hear anything and assumed that I did not get the job. However, I got a call yesterday and surprise! I got the job. Here is the problem, I am now 12 weeks pregnant. The job starts in August 2011 and ends August 2013. If I take this position, I will be gone from December 2011 to December 2012 (here in Canada we get 1 year mat leave). Do I take it? It is exactly where I want to be in my career.
For my $.02, I really, really think that you must talk to the prospective employer about this development — taking an entire year for a maternity leave during a two-year job seems like a decision made in bad faith. Two other thoughts: If the government always offers this job for two years, perhaps they already have a maternity policy in place for it — that might be the way to start the discussion and test the waters without disclosing your situation. The second thought: I'm not familiar with Canadian law, but are you sure that a mandated law like that would apply to a worker who is less than a full employee? There are a lot of exceptions to US laws (for example if your office is smaller than 15 people) and it wouldn't surprise me in the least to find that temporary/contract workers are outside the scope of the law.  (Pictured above: Button Front Bi-stretch Suiting Maternity Jacket, available at a pea in the pod for $59.99 (was $119).)
But this brings us to an interesting question: if you and your partner are trying to get pregnant, should you even be looking for new jobs? I ask that with no disrespect to reader S, and I'm honestly curious to hear the readers' thoughts on this because I think it comes up a lot here in comments. The tricky thing with pregnancy, of course, is that you have no idea when you'll actually get pregnant. Most of my friends got pregnant either a) the first month they were off the pill, or b) 6 months+ after that. (I was shocked but very happy when I got pregnant after two months of trying.)  I am far from an expert on maternity leave laws, but I do believe many employers require you to have worked there for at least 3 months before you're eligible for the maternity leave policy (whether paid or unpaid).  Working Mother had a great article on the legal side of things a few months ago, including which new bills are worth watching.
This is a really tricky subject, and I'm curious to hear what the readers say.  When considering your answers, ask yourself:  Does the woman's age matter?  If you've been trying for a certain amount of time (2 months+? 6 months+?) does it matter?  If you already know you're pregnant should you curtail the job search, stay put, take maternity leave, and then renew the job search?  Or should you just roll with the punches, get pregnant when you get pregnant, and see how the cards fall with regard to your career and whoever is your current employer when you need to take maternity leave?
I suppose for my own $.02 I would say that it would depend to me on age — as a 34-year-old I would feel a lot more pressure to keep trying for kids regardless of the job situation (mothers who are 35 and over when they give birth are considered "high risk pregnancies," and I've heard that for most women fertility problems start around age 37), but my answer would be different for women younger than that.  On the flip side, from an employer's standpoint, it would stink to hire someone and then find out that my new employee was pregnant, which would mean that basically her first year with me (assuming she stayed) would be marred by pregnancy fatigue, that she'd have a rich source of distraction (trust me: there are a million things to research once you're pregnant — it's been more time consuming than planning my wedding) and then a worker who might be easily distracted/have different priorities if and when she did come back to work.  If I were the employer, knowing that an employee purposely put me in that situation with no regard to my opinion would not leave a very good taste in my mouth, and it would get the whole relationship off to a bad start.
Ladies, please weigh in — if you know you're trying to get pregnant, should you be looking for a new job?