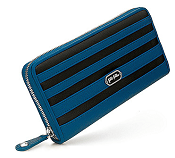 You always see personal finance articles advising you what to do at the end of the year — but I see far fewer of them advising what to do financially in the beginning of the year. Personally, I like to do two things around now:
a) I take a "financial snapshot," and
b) I make three or four financial goals for the year.
(Pictured:  FOLLI FOLLIE Blue Stripes Wallet, available at Lord & Taylor (having awesome sales of up to 80% off today) — was $85, now $51.)  
The "snapshot" was inspired by the Excel spreadsheet that I started when we were looking to buy the apartment. It's just a listing of all of our accounts, investments, debts, and property — and it lists the current value for each of those line items. Big deal, you say — you get net worth info from Mint or any other financial-tracking software. But what I haven't seen those do (and maybe I'm just missing some easy button to push) is show you how the numbers changes over time, even if they're just paper gains and losses. So now, every six months or so, I take a "financial snapshot," intended to memorialize what our financial situation is at that moment in time — I start a new column in the Excel spreadsheet, and manually input the values. That way, I can compare things across years, as well as to say, "well, our investments are growing!" or "wow, we paid off $10K in debt last year!" It just helps me focus on the big picture, as well as to give myself a pat on the back for whatever we may have accomplished. (I was just talking about this with my father, who likened it to that old quote, "you can't control what you can't measure" — except with finances it's more a matter of "you can't control it if you DON'T measure it.")
Another thing I like to do now is to make financial goals for the year. After we bought the apartment, this included things like "Get emergency fund back to $___," and "Save $__ for kitchen renovation." When I was thinking of quitting my job to focus on the blog full-time, "Bank all of my paychecks" was on the list (as in, immediately put them into savings). Currently, "figure out how to balance our investments, and consolidate all of my retirement savings" is one of my goals — it's daunting, but giving myself a year to get it done makes it better.
I think it's particularly helpful, every year, to set a savings goal for yourself — 10% of your salary, say. Then, with your trusty Excel sheet in front of you, you can try to figure out how to do it: if you put $X into your 401K every month, how close will that get you to your ultimate year-end goal? If you automatically invest $50 a week, how close will that get you? It's just my $.02, but if you have stress or emotions involved with financial planning, sitting down in one day and doing it with an Excel spreadsheet (where it's just numbers! not actual money or anything!) is a good way to remove that emotion. (This is also helpful for goals about paying down debt, saving for a big trip/renovation, etc.)
Readers, what kind of financial stuff do you do at the beginning of the year? Do you set financial goals? Does anyone else do a "snapshot" like I do?