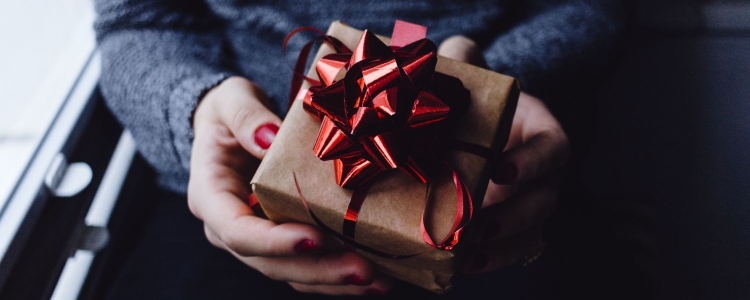 We did a big roundup on the best of-the-month club subscriptions last December — and I thought we'd do another roundup of similar last-minute gifts…
(Also check out some of our classic gift ideas — many are available through Amazon for quick shipping.)
Great Last Minute Gift: Meal Services Like Purple Carrot
We've tried a few of these for our family and in my experience they're all a little bit too much work for what they are — the one that I really enjoy is Purple Carrot, mainly because I don't regularly eat or make vegan recipes. I have one friend who gets it really regularly and is always posting amazing-looking dishes to Instagram — and I could see this being a great gift for someone who is trying to eat less meat, eat healthier, or enjoys trying new foods and recipes. Note that they generally are not low-calorie dishes — the few weeks we had all of the meals clocked in at around 700-900 calories — but maybe that was just the dishes we chose. (Everything was DELICIOUS and we've added a few recipes to our regular rotation.)
With Purple Carrot you pick your meals a week or two ahead of time based on a menu. If you get 4 dinners per week for 2 people, that will be about $95. (Oooh, and they now have "prepared meals" as an option, also, so you don't have to do quite so much meal prep.)
Smaller gifts that correlate with this (if you want to make a nice themed present or have something else to wrap up): new spatulas (am I alone in feeling like I always need new ones? I liked this set), specialty products like avocado savers, or fun spices like Slap Ya Mama or Trader Joe ones like Umami seasoning or Black garlic.
There are obviously a ton of other meal services here — readers, I'd love to hear which are your favorite, either to use yourself or give as gifts…
This post contains affiliate links and Corporette® may earn commissions for purchases made through links in this post. For more details see here. Thank you so much for your support!
Great Last Minute Gift: Cocktail Subscription Service like Shaker & Spoon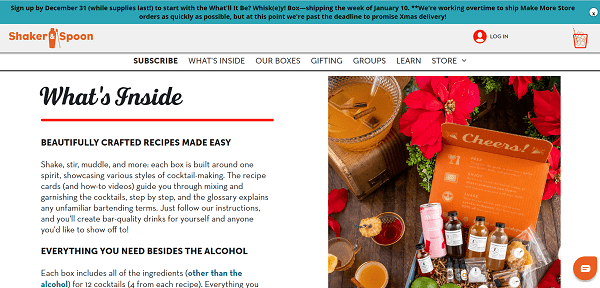 Something I've seen the readers talking about a lot is a monthly cocktail subscription service, where they send you all those tinier ingredients that can be difficult to find and expensive to purchase — after all, not everyone is going to love a $20 bottle of a very specific kind of bitters.
It's important to note that they do not send you alcohol, but rather "everything you need besides the alcohol." But they do make recommendations for which alcohol to get.
A 1-month gift is $50.
Note that there are of-the-month clubs for alcohol, if your recipient's state allows it — if you know someone who is trying to cut their intake you might look into a gift card to No & Low, which sells a ton of interesting non-alcoholic substitutes.
Smaller physical gifts that can correlate to a cocktail subscription service like this: historical drinking glasses (I have 2 different sets of these and love them), a bartender kit, or even fancier cherries than they might otherwise buy. (Or, hey, dirty martini olive juice.)
Another Last-Minute Gift for the Book Lover: A Book Subscription such as Brilliant Books
Readers turned me on to Brilliant Books' of-the-month subscription last year, and I got it for my husband. He was a pretty passive recipient, reading the books at his own pace, and not giving them a ton of feedback, but he found some great books through the service. There are a lot of services like this, including romance-specific ones (I've heard great things about The Ripped Bodice's subscription) — again, readers, if you've tried any other book clubs, I'd love to hear about them! (Particularly if you have any great sci fi book clubs!)
Physical gifts to correlate to a book-of-the-month subscription: a clip-on reading light (we just got this amber one), a great throw blanket (get snuggly and read!), a funny bookmark or two.
A Few More Last-Minute Gift Ideas
Storyworth – The recipient receives weekly prompts to write their story; at the end of the subscription you can buy them (and others) a bound book. It's a lovely idea for a grandparent if they're into writing. Physical gift ideas to go along with it: a mug, nice teas, maybe even a candle to make their trip down memory lane more of a ritual. (This cedarwood/sandalwood candle is lovely, but the scent is very strong.)
Letters of the month – I've gifted the Dear Holmes mystery letter of the month before (my father enjoyed them), and there are a few different historical letter clubs (the Rumpus, Letterjoy, Historic Mail). Physical gift ideas to go along with it: mug, teas, maybe even a themed letter opener like these sword ones.
Readers, what are some of your best last-minute gift ideas?