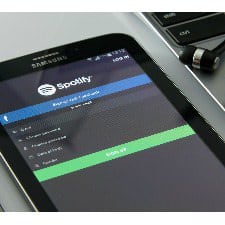 While some of us need absolute quiet to be productive at work, others prefer some background noise, whether it's classical music, indie rock, or something else entirely. Earlier this year, Kat talked about her favorite music for different moods and situations (and readers discussed theirs in the comments), and in the past we've discussed wearing headphones at the office and how to be productive when you work in an open office. Today we'll round up some Spotify playlists that are perfect for the workday. Here are five that can help you get your work done:
Productive Morning:
Description: "Get into a morning flow with this focus playlist."
Length: 39 songs; 3 hours 11 minutes
This playlist is filled with slow, mellow music, mostly without vocals/lyrics (which is helpful if words make music too distracting for you when you're working — that seems to be the case with a lot of people). Listening to this might even calm you down if you're feeling stressed about work or personal stuff (but I won't promise anything). Two sample tracks are "Hibernation" by Random Forest and "Breathturn" by Hammock.
Deep Focus:
Description: "Keep calm and focus. This playlist has some great, atmospheric rock to help you relax and concentrate."
Length: 112 songs; 8 hours 29 minutes
Here's some more slow and relaxing music for your workday, again without vocals. Your brain will likely be able to keep these sounds in the background and help you focus on the task at hand, while the song and band names will either seem poetic or laughable, depending on your tastes and mood. (Examples: "Gusts of Wind Blowing in Different Directions" and "In Collusion with the Waves.") Two sample tracks are "Passage" by Lowercase Noises and "Petrichor" by At the End of Times, Nothing. (Speaking of poetic, here's a fun fact: "Petrichor" refers to the smell of dry, dusty ground when rain falls.)
Intense Studying
Description: "Music to help you concentrate and stay focused during your most intense studying sessions."
Length: 100 songs; 13 hours 15 minutes
This playlist is the only one of the five listed here that contains classical music, and it has a lot of it: 13 hours' worth. The composers include Mozart, Bach, Brahms, Vivaldi, Beethoven, and Chopin, and you'll find some more recent music as well — pieces by Philip Glass, Osvaldo Golijov, Terry Riley, and Steve Reich. I don't think this one needs "sample tracks" included — you get the picture. (To counteract that huge list of male composers, here is another Spotify playlist for your workday: Women of Classical, at 50 songs, 7 hours 36 minutes.)
electroNOW:
Description: "Banging tracks with Ravitez and Afrojack, b2b!"
Length: 56 songs; 3 hours 25 minutes
As you can tell from Spotify's description, this playlist is a little different from the three above. It's full of electronic music, originals and remixes from artists like Calvin Harris and DJ Snake (don't worry if those names don't mean anything to you) with energetic beats to keep you motivated and repetition to help you focus. Two sample tracks are "Tell Me Why" by Sagan and "Everything Changed" by DBSTF.
Brain Food:
Description: "Feed your brain with hypnotic electronic"
Length: 140 songs; 9 hours 49 minutes
Like the last playlist I mentioned, this one gives you lots of electronic music — but these tracks have less of a club/party feel and more of a chillout atmosphere (probably self-explanatory, but here's a link anyway), so in other words, it probably won't inspire you to get up and dance at your desk. You'll find dubstep, electropop, and general dance/electronic music on this playlist; two sample tracks are "Creep" by deadmau5 and "Mimosa" by Psychedelic Stereo.
What's your favorite kind of music to listen to while you're working? Do you have a subscription to Spotify (and if so, what's your favorite Spotify playlist?), do you use Pandora, or do you just listen to your own music? Or, do you prefer not to listen to anything while you're at the office?
Pictured: Pixabay.