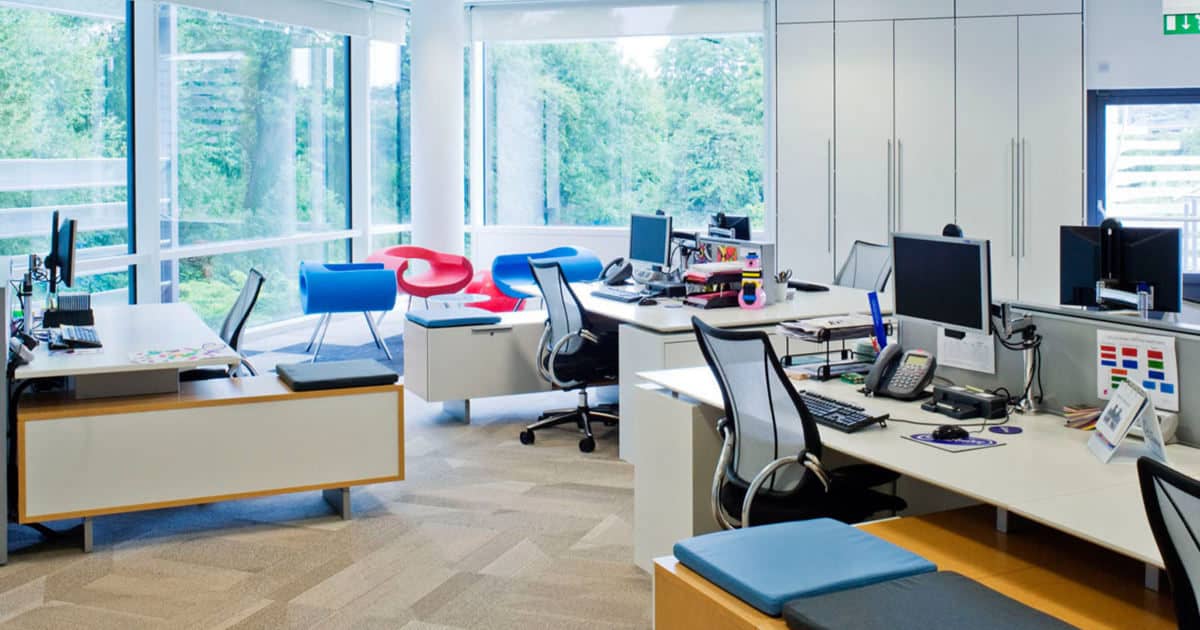 Readers, do you have any tips for how to work productively in an open office? What advice do you have for someone struggling to adjust to one? Reader K wonders how to be productive when you work in an open office…
I'd love to hear your and readers thoughts about open office plans in the legal environment, such as in the recent article Google Got It Wrong: The Open Office Trend is Destroying Workplaces. 

In my job at a large non-profit that also has a legal help line, the lawyers, except for legal director, are in cubicles. 2 lawyers spend 1/2 their time doing phone intake. The rest do typical legal research and writing.

I have asked about ways of reducing noise/less open space, but am told to just deal with it. My question is whether in the legal industry in general there is an expectation that lawyers should be able to have quiet spaces to work. Looking back on K-12, college, and law school, I always found quiet places to work, and was efficient. My teachers noticed that I was a great writer and really distractable, so they made sure I had a quiet place to work. Now, as a lawyer, I wish there was a quiet space I could escape to do my best work, like I did for 19 years of school. I'd take a pay cut!
Interesting question, reader K. I've worked in cubicles (back in my magazine days), a closed-door office environment (back in my BigLaw days), and an open-door office environment (back in my nonprofit days)… so I've never worked in a truly open office. While I'm really curious to hear what the readers say, I have a few ideas that may be of help you be productive in an open office:
Figure out what your biggest problem with the open office plan is. I can see three main possibilities:
Audio — as you say, you need a "quiet place to work." Know your office, but could you possibly wear headphones and listen to music (or even just wear noise-canceling headphones)? Alternatively, could you have a fan at your desk that becomes white noise you can focus on instead of everything else going on?
Visual — are you easily distracted by people moving and doing things in your field of vision? When I switched from a closed-door environment to an open-door environment, my desk faced the door and looked into the main room of our tiny office, where everyone gathered for discussions, lunch, and other projects that needed more space.
I found myself incredibly distracted by everyone moving around, doing things, etc. (On the flip side, when I worked in a cubicle at the beginning of my career, I had no problem focusing — I faced a corner, so even though I shared the cubicle with two other girls, and had only a half-wall separating me from the girls working on the other side of the cubicle, it was all fine.)
So: in your open office space can you find a spot that faces the door, or a quiet area that doesn't get a lot of traffic? (NOT near the printer, the refrigerator, the water cooler, et cetera.) If you have an assigned spot, can you bring in something that blocks your view, like a large plant? Alternatively — and I'm serious about this — could you talk to your boss about bringing carrels into the space? Wayfair has a number of inexpensive ones, such as the one pictured ($135).
Stay tuned for a roundup of little things to make your office more comfortable!
People and boundaries. We've talked before about chatty bosses and chatty coworkers, but I can see this being an even bigger problem in an open office, were it me. I'm one of those people who, once I get in my zone, can happily work for hours — but a question or interruption from someone just popping in can throw me off my game, tends to introduce other distractions (Facebook, I love thee so), and can make for a long road to get back to my zone.
Beyond wearing headphones and responding to every question with something along the lines of, "Interesting thought, Bob. Let's discuss it at 3PM today," I got nothing — readers, what is your advice on discouraging chatty coworkers in an open office?
Seriously investigate flex time, or working from home. I have a few thoughts here: first, if the lawyers doing phone intake are primarily taking calls from 12-5, perhaps you can change your working hours to be 7-3 rather than 9-5. Then you'd only overlap a little bit with the people taking calls.
Another idea: make a proposal to work from home a few days a week, or a few hours a day. Readers who've asked for flex time or permission to work from home, what are your best tips? (I've written my own tips for how to work from home effectively, as well as how to set up a great home office.)
Find a new job. It stinks when you have a job you like, and then some outside force — the commute, the office, the smells from the drycleaner next door, whatever — make you want to find a new job. Still: that may be the answer here if you're really incompatible with the open office plan, and none of the above suggestions work.
Ladies, what are your tips on how to be productive in an open office? Have you found any tips or tricks that worked for you?
Psst: these are some of our favorite books on productivity…
(Pictured at top: Cadbury_Schweppes_08, originally uploaded to Flickr by K2Space.)