Sure, we all know what wardrobe essentials for work professional women are supposed to have in their closets, but if you're buying one for the first time or replacing one you've worn into the ground, it can be a pain to find exactly the right incarnation in stores. In "The Hunt," we search the stores for a basic item that every woman should have.
What kind of cardigans are you liking this year for work and play? Are you joining the crop top twinset trend (my $.02: skip that one for the office), wearing more buttoned cardigans like tops in and of themselves, or going with longer, thicker, crazier cardigans (like the one featured on the Weekend Open Thread)?
This post contains affiliate links and Corporette® may earn commissions for purchases made through links in this post. For more details see here. Thank you so much for your support!
Sweater Jackets for the Office

Sweater jackets have obviously been huge over the past few years, in large part thanks to M.M.LaFleur and their jardigans. It's fun to see them start to come out in fleece and other super comfy options, like the one from Lands' End. We just did a roundup of the best sweater jackets for plus sizes.
Super Traditional Classic Cardigans (with Matching Shells)
If you want to go the super traditional, preppy route, you can always go with the matched twinset. As someone who's been blogging about these for a long time, I will note that they never went away because they're true classics — but it suddenly seems easier than ever to find twinsets.
Obviously you can wear the pieces separately — the sweater shells can actually make great sweater vests, or if you like that particular color, they're usually opaque and great layers beneath blazers.
I've always tried to launder matching pieces together, though, so they stay the same color and have the same wear.
The Best Cardigans for Lounging and Working from Home

As someone who often works from home, I love comfy cardigans — I'm usually looking for one with pockets that has relatively easy care. Some of these can also fly in an office (I think with the Barefoot Dreams ones, the darker they are, the more likely they are to work) — but I'm curious what other people think.
A Few Trends in Cardigans Right Now…
The Cropped Matching Set
As I mentioned the crop top + matching cardigan is a really big trend right now, and I like that J.Crew is showing it on a midsize model because I really think the trend can be for everyone… but not at your office. (Although the cropped sweater shell can make a really cute layer on top of an oversized white button-front shirt, which feels like another big trend we're seeing right now.) (If you're not sure what to wear with your high-waisted mom jeans… this is one of the top looks for it right now.)
Nordstrom brand BP has a ton of similar but affordable looks.
The Boxy, Cropped Cardigan Worn Buttoned
A related look is the boxy, slightly cropped cardigan that is being worn closed — not as a layer but as the sweater. You can add a lacy camisole to the bottom to peek out (like the above styling from Halogen), or buy a version with the "twofer" look. Some of the boxy, cropped cardigans have collars, like this cute version from Madewell with a polo collar.
Cardigans with Lots of Feminine Details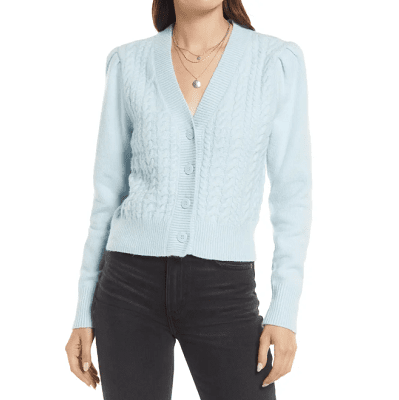 Cardigans with really feminine details are starting to come back also — I don't mind the puff sleeve ones like the Treasure & Bond cardigan above — but I'm less inclined to like the lace collars, lace sleeves, and floral embroidery. (OK maaaaybe this $1500 Oscar de la Renta cardigan with 3D appliques would be acceptable.)
Finally: Not a trend at all, but the long boyfriend cardigan is still around, and it makes for a great layer for fall weather. I keep seeing style influencers wearing leopard sweaters like this, especially with all-black outfits as styled here at Express. A few more options for long, leopard-print sweaters include Target and, at the higher end of things, Saks and Ann Taylor. This Magaschoni cardigan looks like a great value at Nordstrom Rack.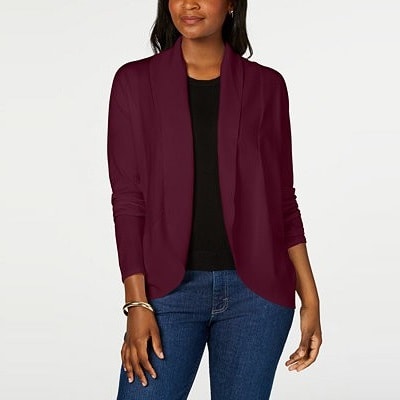 One more that isn't trendy but has been HUGELY popular with readers in the past — and for $35ish new it's a great deal. This Karen Scott cardigan comes in regular, petite and plus sizes.
Like this feature? Check out other recent installments!