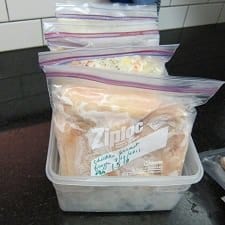 When you're a busy woman, taking the time to cook for yourself can be a luxury. It's better from a health perspective — you know exactly what's in the dish, as well as how fresh/healthy the ingredients are– and you can much more easily accommodate special desires (low calorie, low sodium, low fat, low carb) by cooking for yourself. Furthermore, frequently it's far cheaper than eating out.
The easiest way that I've found, when I get time to cook for myself, is to cook large batches — but then the problem becomes that my schedule is so unpredictable that half of the batch (or more) goes to waste. Not to mention you get "food fatigue" from eating the same dish so many days in a row.
My personal answer has been to cook large batches and then freeze them with a fairly, um, elaborate system. (I'm a bit crazy, but we all knew that.)  A friend came to visit a while ago and was fascinated by my system, so she encouraged me to share it here.
When I was single, I used this system ALL the time for pasta sauce — I hated opening a jar of sauce, then seeing the jar in the fridge a week and a half later and throwing it out 3/4ths full because I hadn't had time to make myself more pasta.
1. Get good quality freezer bags. I like to buy Ziploc bags that are designed for the freezer — when I've used no-name brands or non-freezer bags I've had problems (leaky bags, freezer bite, etc). I prefer to buy quart-size because I've found that those tend to hold two servings — the perfect amount for me and my husband.
2. Cook a bunch of food. I'm a big fan of the crockpot, so a lot of what I cook for myself and the hubs are things like stews and soups. I also will freeze a lot of raw chicken and raw beef, as well as things like leftover tomato sauce. I haven't had a lot of luck freezing fresh vegetables or fish, but your mileage may vary.
Two things to note about the food:  It's going to be easier to fill the bags when the food is not piping hot — either lukewarm or chilled is preferable. Second, when possible I try to freeze my food as soon after cooking it as possible (rather than waiting 3-4 days) — I'm not sure if it's right or not but my perception is that as the ingredients (like veggies) age, they loose some of their health factor.
That said, freezing will kill a multitude of bacteria (I think), so you shouldn't be too shy about freezing food at the tail end of the time when you would be eating it.
3. Label your bags before putting any food inside; this way the writing is neater. I like to include the name of the dish, the date I made it, and occasionally the amount (1lb chicken) or the Weight Watchers Points value per serving.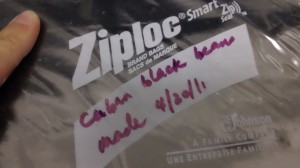 4. Next, get tall glasses (or sometimes even a vase if it's a gallon-sized bag) to help my Ziploc bags "stand up." This is hard to describe, so hopefully the picture helps — you push the bag inside the glass and then open them up.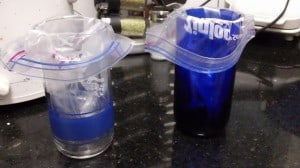 5. Ladle the soup or stew inside. You'll find that the Ziploc-inside-the-glass gets full faster than the Ziploc will, so after a while you have to remove the glass from the equation and let the Ziploc stand by itself.
6. Continue to fill the bag(s) until all of the soup is ladled out. If there's some spillage on the bag, wipe it down. Next, you may want to weigh the bags using a digital scale
— I really do use mine frequently and it has been a great investment for the kitchen.
If there's any huge inequity between the bags, you can take this opportunity to balance it out; otherwise you can just eyeball the bags and close 'em up.
7. A note on closing the bags: there should be as LITTLE AIR IN THE BAG as possible. Air causes freezer burn, and no one wants that.
8. Next, get out a plastic cutting board (or other smooth, flat surface). This is key to a neat freezing process — even if you're just freezing chicken breasts or something simple like that. Layer your Ziploc bags on the bag — it's okay if they overlap a bit — and then slide the plastic cutting board into the freezer.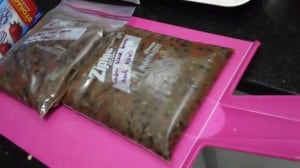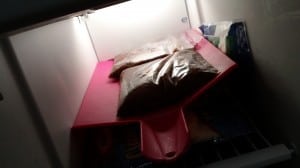 9. Then, let it sit for 4-24 hours. The bags freeze nice and flat, at which point you can remove them. If you like an organized freezer you'll find that the flat quart-sized bags even fit in a shoebox, pictured at the very top of the post.
(I bought a box of 20 clear shoe boxes from The Container Store when I was changing up my shoe storage system, and have found that they come in ridiculously handy in a lot of places, including the freezer.) Here's one bag after it's been frozen.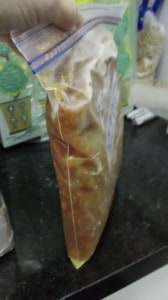 10. Voila! Healthy, homemade dinners (or lunches) for the next 3-6 months, depending on ingredients.
If you're heading off to work in the morning and want some of the leftovers for lunch, it's easy enough to grab one of the frozen Ziploc bags and chuck it in your purse — it should stay frozen for your commute, and should defrost (either in the freezer or under a watchful eye just on your desk) enough to get it out of the bag before heating it up for lunch.
I'm also a fan of taking out a Ziploc bag in the morning and putting it on a plate (or in a large bowl) to defrost in the fridge during the day, meaning all my husband or I have to do at night is to heat it up.
Personally, I prefer to let the food defrost entirely so I can transfer it to a proper bowl or pot to reheat it — I like to avoid putting plastics in the microwave whenever possible (both because it is never pretty when you overcook plastic, and because I've heard rumblings that plastic in the microwave may not be so safe for you).
OK, readers, that's my insane little system for freezing food. What tricks do you use when you cook? Any favorite recipes that work particularly well for the freezer?