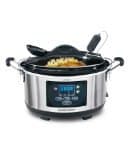 2018 Update: While we still stand by these reasons every busy woman needs a crockpot, you may also want to check out our most recent roundup of 5 all-day crockpot recipes. 
We were pleasantly surprised when numerous commenters to our
What to Eat When You Have No Time to Eat
post started mentioning the crockpot — we thought it was our dirty Midwestern secret. But it truly is one of our best tools in the kitchen, and if we're preparing dinner (beyond boiling water) it's pretty much all we can manage on work days.
(Pictured: Hamilton Beach 33967 Set 'n Forget 6-Quart Programmable Slow Cooker, available at Amazon.com for $58.)
If you don't have one, here are the reasons we love it:
The food is amazing. Moist, falling apart, delicious. It's particularly great for recipes involving spices, as they tend to soak in.
You don't have to totally know what time you're coming home. Recipe directions frequently say things like "Cook 6-8 hours on low" — and we often find that if it cooks for 10 hours it's just fiiiine. (And we have a super old crockpot that does not have a "warm" function.) If a meeting goes long, or if you end up bumping into a friend on the way out, or if you just need another half hour to get home — it's cool. Whenever you arrive home, dinner will be there waiting for you.
Prep is, generally, easy. We're a fan of simple recipes (we're posting one of our favorites below) that take very little prep — more intricate things exist, but for many recipes the most difficult part is measuring out the spices, which can be done the night before.
Clean-up is, generally, easy. Particularly with the advent of crockpot liners, cleanup often consists of a) removing the food to serve you and your family and eating it, b) after dinner, removing the leftovers (if any) and packaging them up, c) discarding the crockpot liner, and d) rinsing the crockpot. Done. No baked-on goo to scrub at, or soak, and the dirty dishes are minimal.
Some possible misconceptions:
You need a family of four to use one. Nonsense — even if you're just serving one the leftovers are awesome.
The food turns to tasteless mush. Again, this is not our experience. Keep in mind, if you want to serve something like chicken cutlets, the crockpot is not your friend — chicken tends to fall apart and shred in the crockpot — but otherwise, how tasty your meal is depends on how tasty the recipe is.
They're expensive — not true! Most crockpots are $50-$100. Just make sure you get one with a removable stone container (our very first crockpot, 15 years ago, did not have one) but otherwise, it's pretty easy.
You can only make stews. Again, not true. Last night we made the filling for enchiladas — over the weekend we made a whole roast chicken. (The meat was falling off the bone — delicious.)  We also frequently make pasta sauce or soup.
They'll burn your house down. We admit, the idea of leaving an appliance on all day worries us a bit. But you leave your TV plugged in all day, right? And we have never burned down our house (or heard of anyone else burning theirs down with the crockpot), for what that's worth.
Readers, what do you love about your crockpot? What is your favorite recipe or recipe source?
(Our favorite is after the jump…)
(L-3)
To start it off, here's our favorite recipe — we particularly like it because it involves frozen chicken, so we don't even have to remember to defrost the chicken.
Moroccan Chicken and Lentils
.5 bag baby carrots 1.5 cup dry lentils 1.5 pounds uncooked boneless, skinless chicken breast(s) (frozen) 2T minced garlic .75 tsp salt 29 oz fat-free chicken broth .75 tsp ground turmeric .5 tsp ground cinnamon .5 tsp ground red pepper
Instructions
Add carrots, uncooked lentils, frozen chicken, garlic, salt, the spices, and then the chicken broth, in a slow cooker and cook for 5 hours on high (or 1 on high and 7 on low). (Or, if you're us, 10 hours on low.)