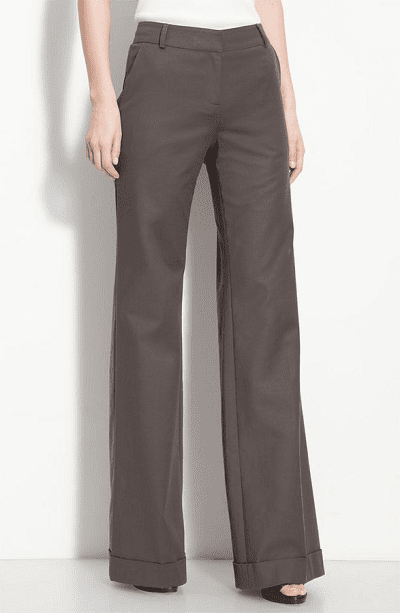 Which women should wear pants with cuffs? Where can you get them? Reader E wonders…
I had a quick question about cuffed pants. When my boyfriend got a suit, he said that any nice men's suit pants should be cuffed. I see that it does lay nicely over the foot that way. I don't see many ladies cuffed pants at all though. Does it tend to go in and out of style? Do women ever have their tailors cuff their pants?
When I first read this, my immediate thought was NO CUFFS FOR ANYONE, EVER! BOO CUFFS!! <drops microphone, walks off stage>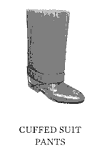 But that may be a bit extreme. So I did a bit of research, and it turns out men still do wear cuffs on some pant legs, but it's advised that you should only wear cuffs with pleated pants (unless they have very wide legs). As it turns out, I am also against pleated pants (for men and women), so I suppose it isn't surprising that I'm against cuffs.
That said, here's my case against cuffs for women: When a woman wears cuffed pants, the cuffs break the visual line you're trying to create, and they make your legs look shorter and stumpier. Furthermore, if they're already cuffed when you buy them off the rack, it's going to be that much more work for the tailor if you need to hem them.
There are a few times, though, where women should consider cuffs:
You're very tall. If you're shorter than 5'9″, do not wear cuffs (unless you want your legs to look stumpy, in which case go right ahead).
You're very tall and you're wearing pants that are in such a fluid fabric that they need a cuff at the bottom to help weigh down the pant.
It's Halloween.
Maybe I'm overly opinionated on this topic, though, as a short woman who came across nothing but cuffed pants when I started work in the late '90s because they were trendy then. As with all trends, they go through cycles, and maybe they're on the upswing — I did find a number of cuffed pants from some big designers (pictured below). What are your thoughts, readers — do you wear cuffed pants? Have you ever asked a tailor to cuff your pants?
Psst: here are some of our latest favorite pants for work…
This post contains affiliate links and Corporette® may earn commissions for purchases made through links in this post. For more details see here. Thank you so much for your support!