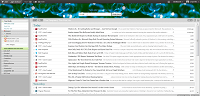 Sigh — don't you just hate change? Google Reader is ending, and I would (of COURSE) hate for anyone to miss their daily Corporette updates because they haven't found a new reader, so I thought I'd mention a few:
Feedly – Lifehacker votes this the best app to replace Google Reader, and it now offers one-click import from Google Reader feeds. (As I write this it's crashing, but maybe that's because I'm trying to log in from an email that doesn't have a Google Reader account.)  It started as a mobile app; apparently their desktop version is pretty good so long as you use Safari, Chrome, or Firefox. You have to log in with your Gmail account; you can organize things into categories, and you can save articles to read later.
Bloglovin'. A lot of fashion bloggers love Bloglovin' – for my $.02 it's best for visual blogs.  I'm not aware of a way to organize feeds, so you just get a stream of content.
Netvibes (pictured above). I'm going to be a total weirdo and recommend Netvibes, which I switched to after Bloglines died a few years ago — I liked that it wasn't attached to a Gmail address (back then I heard a LOT of new brides moaning about how they couldn't get their Google Reader accounts moved to a new email address, which is a problem I still have with other Google products — my Adsense account is still under my maiden name!) and I liked that I could have other people sign in if I wanted them to without giving them access to my main Gmail account. (I had a virtual assistant for a while who was primarily helping me the Weekly News Update.) I have my problems with Netvibes (their mobile interface is weird) but ultimately I feel most in control of how I read my feeds with them.
As always, you can stay up to date with Corporette through other means as well:
by liking us on Facebook (each post will appear in your news feed)
by following us on Twitter (again, each new post will appear in your stream)
by signing up for our newsletter (right now you get a single email each day with all three posts — I still have a few big changes planned for the newsletter in months to come (it's gonna be awesome!) but for the moment it's looking a LOT better than it has in previous years).
Ladies, which are your favorite RSS readers?  Has anyone made the jump from Google Reader to something else?