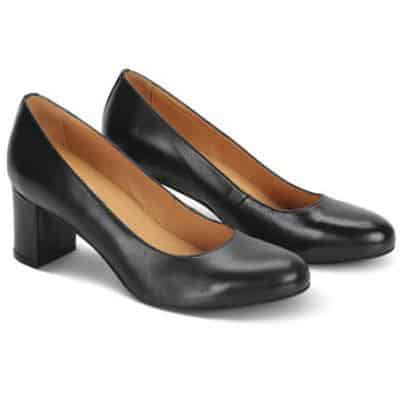 If you tend to shop comfort shoe brands, you know: just because a company SAYS something is comfortable doesn't necessarily mean it IS comfortable. (To say nothing of stylish or sleek!) It's been a while since we rounded up stylish comfort heels, but I was intrigued to see a new brand to consider: Hammacher Schlemmer is now selling "The Flight Attendant's Comfort Shoes." As they note:
These are the comfort shoes worn by flight attendants who routinely spend hours a day on their feet. The shoes have shock-absorbing gel in the heels and anatomically correct cushioned footbeds that retain their shape even after hours of wear. The polyurethane open-cell foam insoles help keep feet dry and cool via air circulation, can be removed for machine washing, and are treated to be fungus-, bacteria-, and odor-resistant.
Alright then! While I don't think anyone's going to ditch their Manolos and start wearing these, if you're considering Clarks or other comfort brands this may be just the thing for you. They're $149, 2.5″ high, and available in sizes 6-11.  The Flight Attendant's Comfort Shoes
Check out our Guide to Comfortable Heels for other reader favorite brands!