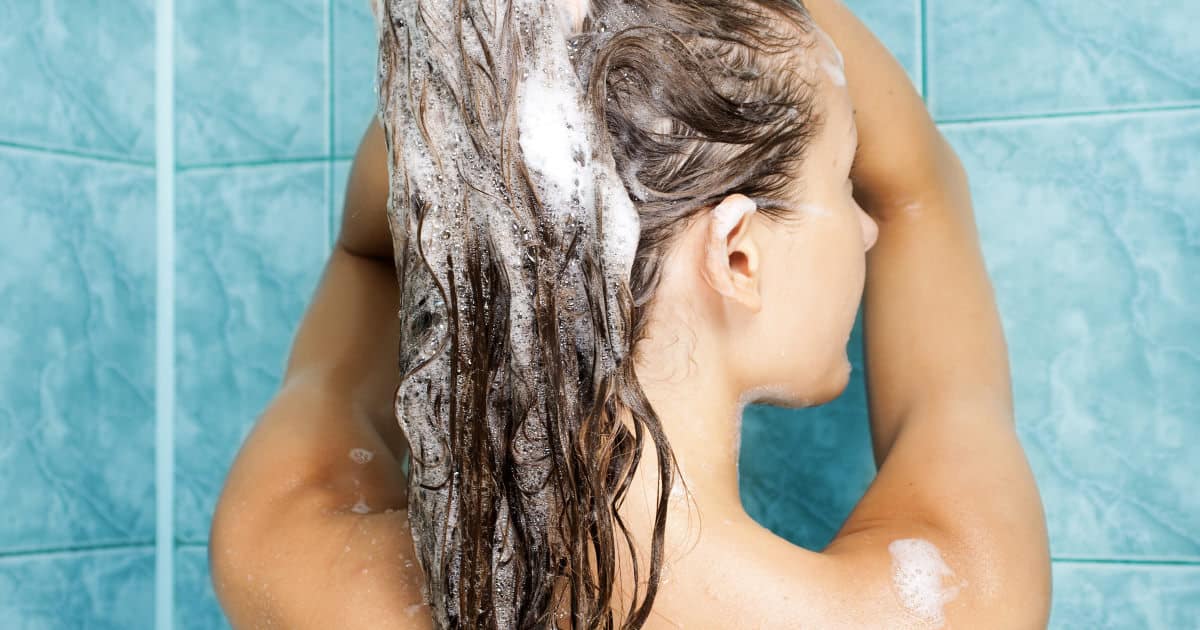 Here's a fun question for today that seems simple but will probably have a huge range of answers: how often do you wash your hair? Do you use shampoo or a separate cleanser every time you wash your hair, or sometimes only rinse it with water or conditioner? What is your hair like — and when does your hair look best? (What's your maintenance like between shampoos — dry shampoo? spraying water?)
Psst: in the past we've talked about how to make a blowout last for days, as well as rounded up our favorite dry shampoos — we've also shared thoughts on bathing routines and tips for curly hair in the winter.
For my $.02, when I was younger I shampooed my hair daily, and if you'd paid me I never would have believed that my answer today is "every four days."
My hair has always been fine but with a wave — in my 20s I largely used 2-in-1 shampoos (super cheap drugstore stuff — I remember really liking Suave!), John Frieda frizz oil, and spent 15-30 minutes blowdrying it every single day.
After I had kids my "wavy" hair became much curlier, and I started seeing a ton of stories in the news about women who only washed their hair every few days. For me there was definitely a process for washing my hair less, as I've described before — first I cut back to only washing my hair every 2 days (Day 1 shampoo, Day 2 don't get it wet, Day 3 shampoo), and then I went to more days by washing my hair with conditioner in the middle (Day 1 shampoo, Day 2 not wet, Day 3 conditioner, Day 4 not wet, Day 5, wash).
Nowadays (heading into winter, at least) I just don't get it wet and wash it on Day 5 — as the air gets dryer in the winter I may go back to a Day 3 conditioning. (I used to do a dry shampoo blitz before I went to bed on Day 2 or 3, but I recently read an article in The Atlantic about how dry shampoo isn't that great for you, so I thought I'd stop using it and see how I felt — and feel good without it about 75% of the time.)
This year, I've been experimenting with keratin treatments (I haven't had one in months at this point, though — I wanted to see if I missed it before spending the time and money for a third treatment) and aside from shampoo choices it didn't affect my routine at all. I do TRY to do masks (or at least coconut oil!) in the winter because it can get dry and frizzy (we'll see if I go back for that keratin treatment after all!) but I don't have a ton of patience for hair masks.
I almost never blow dry my hair myself these days, usually opting to let it air dry into curls. It definitely looks best the first day — but if I spray the heck out of it with a water bottle* and "plop" it with an Aquis towel* [*affiliate link] while getting dressed and doing my makeup, it looks pretty good. (I still love a blowout if I actually NEED it to look good, just because my curls are pretty unpredictable.)
How about you guys — how often do you wash your hair? What's your hair routine like in general? Do you use masks, curlers, irons, blowdryers, etc? What are your favorites?
Pictured: Deposit Photos / koji6aca.
We are a participant in the Amazon Services LLC Associates Program, an affiliate advertising program designed to provide a means for us to earn fees by linking to Amazon.com and affiliated sites.