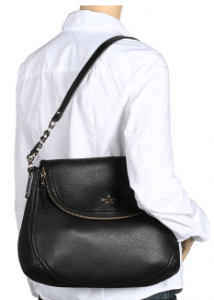 Sure, we all know what basics professional women are supposed to have in their closets, but if you're buying one for the first time or replacing one you've worn into the ground, it can be a pain to find exactly the right incarnation in stores. In "The Hunt," we search the stores for a basic item that every woman should have.
There are so many fun colors out this season, but sometimes you just want a simple black bag — either so you don't clash with what you're wearing, so you tone down what you're wearing, or just because, well, who doesn't want a good black bag? These are all in what I'll call the "mid-expensive" category (in that they're not light decisions, but you don't need to skip a rent payment to buy the bag), which is my favorite category to buy from, both for work and otherwise. As always, I'm sure great deals can be had if you stalk an item online, or haunt sales IRL. Readers, what color bag do you think of as your "basic"? Purchased any great bags lately?

This Kate Spade bag (pictured above as well) is made from soft pebbled cowhide, and looks the perfect size to hold your handbag basics at 13.5″Wx4″Dx11″H. The handle drop is a comfortable 10.5″, and I like the zipper detail on the front flat, as well as the fun striped lining. It was $345, but is now marked to $229.90 at Zappos (also available in pink, orange, and beige). Kate Spade New York – Cobble Hill Penny (Black) – Bags and Luggage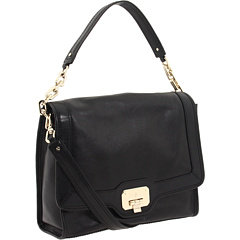 I have the purple version of this bag, and I love it — the leather is soft and durable, and the shape is classic. I'm surprised Zappos keeps showing it with just the longer strap because I find the shorter strap to be really comfortable. This simple black leather version was $398, but is now on sale for $239.99; Zappos has a number of other colors and textures as well. Cole Haan – Jenna Shoulder Bag (Black Leather) – Bags and Luggage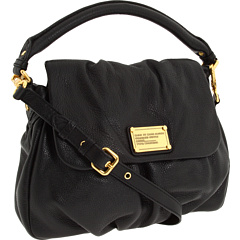 I've never owned one of Marc by Marc Jacobs' Classic Q bags, although I've lusted over them for years — this may be the next purchase I make. Love the pebbled leather from the line, and I particularly like the look of this Ukita handbag, and the size (12″Wx4.5″Dx10.25″H) is perfect for lots of stuff. It says the handle drop is only 5″ but it looks plenty long in the picture. It's $428 at Zappos (and they have it in leather in white, pink, and brown, and, polka-dot PVC). Marc by Marc Jacobs – Classic Q Lil Ukita (Black) – Bags and Luggage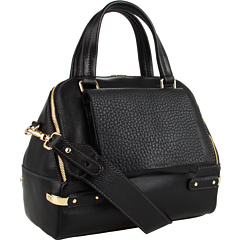 I like Furla bags so much that I'm going to include this bag, even though size-wise it is both shorter and deeper than I normally like (11″Wx6.25″Dx10″H). I do like the mix of "deer grain-embossed calf leather" and regular leather, as well as the unique dome shape. It's $548 at Zappos. Furla Handbags – Amalfi Dome Bag – Small (Onyx) – Bags and Luggage
(N.B.: This bag isn't among the sales, but Furla is on Rue La La today, fwiw.)
Like this feature? Check out other recent installments!