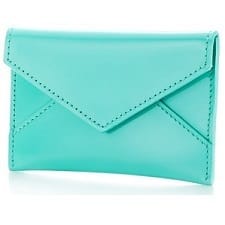 2016 Update: Links updated below, and do heck out our more recent discussion on the most stylish business card cases for women!
Sure, we all know what basics professional women are supposed to have in their closets, but if you're buying one for the first time or replacing one you've worn into the ground, it can be a pain to find exactly the right incarnation in stores. In "The Hunt," we search the stores for a basic item that every woman should have.
We're always on the hunt for a great card case. At the moment, we've been keeping our business cards in our wallet — tucked behind our cash! — but there's something unprofessional about pulling out a wallet during a business conversation. To us, a great card case has the following factors:
you're not embarrassed to pull it out in a business setting (unlike, say, a card case that says "Born to shop, forced to work" on it (no matter how true it may be!)
it's easy to find in the depths of your tote or handbag
it takes a beating from the depths of your tote or handbag
it doesn't flap open, spilling your business cards across the inside of your purse, where they promptly get frayed and funky.
With that in mind, here are some great examples of business card cases that we would consider buying.
Readers, what do you look for in a business card case? Which ones do you carry?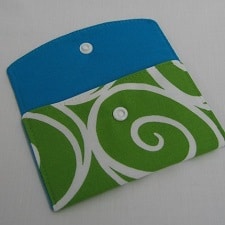 There are a ton of bright and colorful card holders available on Etsy, including this fun lime green one with turquoise lining. As it's fabric, we'd guess it won't hold up that well to lots of dirt and grime, but on the plus side it will be very easy to find in your bag. It's $5 at Etsy:  Mini Wallet/Business Card Holder from Etsy seller baffinbags (still in business as of 2016!).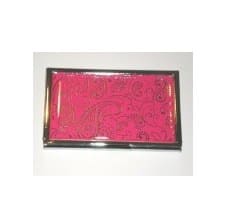 We like the metal look of this one, and the pretty — but not overly girly — filigree and color on the top. It's available at Amazon.com for $10.99 from seller SilverHooks (still in business in 2016!), who has a lot of cute card cases (and purse hooks). Pink Business Card Holder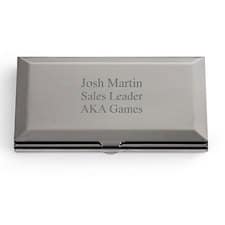 For a very classic look, we like this polished gunmetal card case at Things Remembered. Pro:  The inscription is on the inside of the case, allowing you to put a funny or inspirational quote there if you'd like to. Con: We're not sure how beat up this would get in a woman's handbag. Personalized Polished Gunmetal Card Case, starting at $20 at Thingsremembered.com.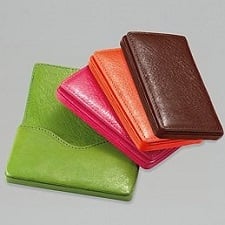 We like the bright colors and the magnetic flap on these leather card cases from Saks. Graphic Image Business Card Case,
available at Saks.com (amazingly, still available in 2016).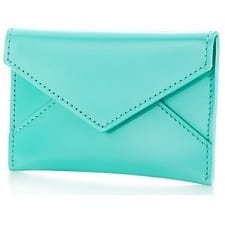 If you love the signature robin's egg blue of Tiffany's, this is your card case. Pro:  You'll always find it in a dark bag. Con:  It might get dirty really easily. (Readers, what are your thoughts — is there a risk that in a business environment the owner of this card case might get labeled as a husband-chaser? We can't decide, but love the case anyway.) Tiffany & Co. Business Card Case, $65 at Tiffany.com. (2016 Update: You can still find similar items on eBay!)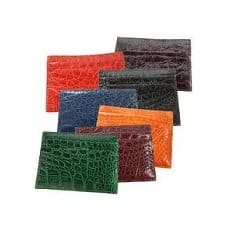 We like the somber colors of these leather card holders from Vivre, as well as the fact that you can get matching journals and passport holders. Stamped Croc Card Cases, available at Vivre.com for $87. (2016 Update: Vivre has been closed for years, but you can still find very similar options at Saks.)