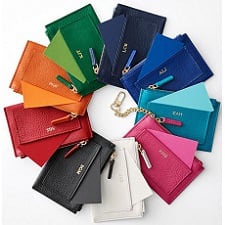 Sure, we all know what basics professional women are supposed to have in their closets, but if you're buying one for the first time or replacing one you've worn into the ground, it can be a pain to find exactly the right incarnation in stores. In "The Hunt," we search the stores for a basic item that every woman should have. Today, we hunt for stylish business card cases for women.
I don't think we've done a Hunt on card cases since 2009 or so — so let's start looking! (Whoa: I just updated that 2009 post and almost everything is still available — crazy.) Ladies, how do you use business card cases? There are a few ways that I do: 1) to hold business cards (those to give and those I receive), 2) to corral a few extra cards that are location specific — for example I used to keep one in my desk drawer at work that had deal cards for lunch spots in my building, such as "buy 10 salads get 1 free" — or if there are a bunch of stores near each other I would try to keep all the cards together and then throw them into my bag before I went to the mall or that area of town, and 3) to use as a wallet for my credit card, license/insurance card, and a few bucks if I've downsized to a clutch and my regular wallet won't fit!  We've noted the very popular Jet Set card cases and I recently featured these gorgeous metallic Kate Spade cases (now on sale, btw) — here are a few other stylish business card cases I'm seeing around the web: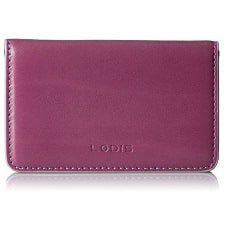 Lodis is always a favorite with readers, and I like that this simple, high quality leather case comes in a zillion colors — this particular one is "beet" on the main parts with an edging in "iced violet." Nice. It's $34.99, and available via Prime shipping. Lodis Audrey Mini Card Case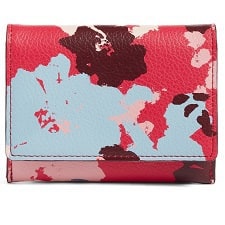 This colorful floral case from Halogen is another lovely choice if you want a covered option. It's $35, leather, and has an ID pouch on the other side; it also comes in a solid black and "opal gray." Halogen® Leather Card Case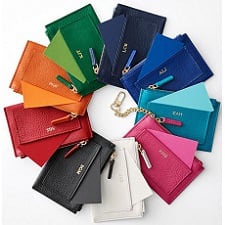 Mark & Graham offers "next generation personalization" on a variety of things, and these colorful leather card cases look great, especially for only $68. I like that there's a pocket in front, a zipper, and a way to attach it to your bag — great if you don't have pockets and your card case gets lost in your bag. Vivid Zip Card Case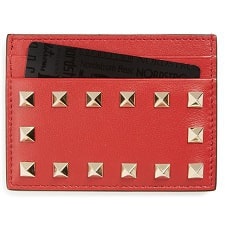 Not only does this card case for fashionistas pay homage to the very popular Valentino heels (I swear, they seem even more popular now than they did when they came out) — but because of the raised rockstud spikes the card case is easy to find in your bag.  Nice. The case is $275, and available in black, red, and "water rose." (If you like the raised studs, this $68 case is similar.) Valentino Rockstud Calfskin Leather Card Case
How about you, ladies? What do you look for in a stylish business card case — and how do you use your card cases the most? 
Like this feature? Check out other recent installments!