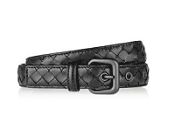 Sure, we all know what basics professional women are supposed to have in their closets, but if you're buying one for the first time or replacing one you've worn into the ground, it can be a pain to find exactly the right incarnation in stores. In "The Hunt," we search the stores for a basic item that every woman should have.
Which are your favorite simple black belts for work? If you're a fan of belts, we live in good times. Skinny belts in vibrant colors and fun patterns are everywhere; wide, obi-inspired belts are also very popular, and you can spend anywhere from $20 to $2000 for a great belt. Hooray!
Stay tuned for a roundup of our latest favorite "classic" belts for work!
This post contains affiliate links and Corporette® may earn commissions for purchases made through links in this post. For more details see here. Thank you so much for your support!
But sometimes you just want a simple black belt to, you know, hold your pants up. One that isn't going to be the focal point of your outfit, but isn't going to be a throw-away piece either. So I thought I'd look for some quality black leather belts around 1″ wide, which I've always thought of as the classic size for trouser loops.
Readers, how often do you wear belts — and do you prefer simple or wild belts? Have you gotten any great "wardrobe staple" belts lately? Which are your favorite simple black belts for work?
The below content may concern products that have sold out.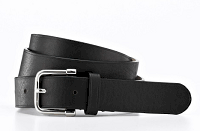 First up: the 1″ Leather Mid Belt from Ann Taylor. There is a brushed metal prong buckle, it's 100% leather, and it comes in sizes XS-L in black, camel, and "lush hibiscus," a nice pink, for $44. Leather Mid Belt
Next: J.Crew's leather round-buckle belt. This one is only 13/16″, so it's a bit on the skinny side — it has a "substantial buckle with a shiny brass finish" and is made of "Italian leather." The black (pictured) is $45; other colors (light brown, beige, and bright green) come down to $11.99-$21 with code GET40. Leather round-buckle belt
Shiny! This is the skinniest of the belts, at 5/8″, but I like the enamel details on the gold tone buckle. The belt is available in black, green, purple, and red for $39-$48 at Zappos, sizes XS-L. Cole Haan Enamel Dressy Belt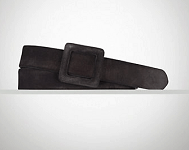 Ralph Lauren is having some decent sales right now (extra 30% off all already-reduced styles), so this nice 1″ wide suede belt comes from $295 down to $104.30. I like the covered buckle, which seems to me the most versatile if you don't like mixing your metals. Ralph Lauren Suede Skinny Trench Belt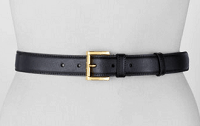 I've kind of been lusting after Saffiano leather since a reader wrote in considering a Prada tote purchase, and this is a (somewhat) affordable way to indulge: the Saffiano belt is a mere $300 on at Neiman Marcus. It's 1.25″ wide, has a "golden" buckle, and features that gorgeous Saffiano leather. Get free shipping with code SHOPNM. Saffiano Vernice Dress Belt, Black
Readers, which are your favorite simple black belts for work?
Like this feature? Check out other recent installments!