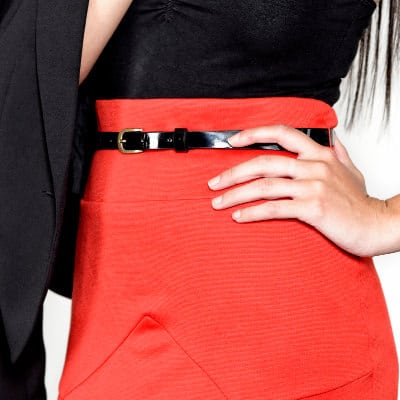 2018 Update: We still stand by this advice on how to wear belts with skirts; you may also want to check out our recent advice on how to stop skirts from twisting around, as well as some of our recently recommended belts.
What are some good guidelines for choosing belts to wear with skirts to work? Reader S wonders…
I'd love it if you could do a round up or a how to wear belts with skirts. I love the look of belts with skirts and I'm not really sure how to pick which width to go with or to coordinate colors.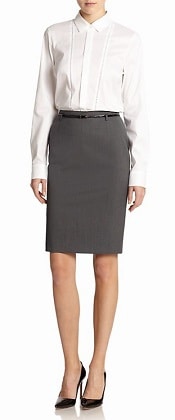 We've talked about wearing belts— as well as the closely-related question of when to tuck — before, but not specifically with skirts. I'll be honest here: I'm not much of a tucker myself, so I don't often wear belts with skirts.  Pencil skirt plus fitted pullover plus blazer equals outfit.  Fit and flare skirt plus fitted cardigan equals outfit.  I have a lot more fun, in general, with other accessories. If a skirt doesn't fit at the waist, I am much more likely to get it tailored than I am to try to hold it up with a  belt.
So I'm curious to hear what other readers say regarding wearing belts with skirts.  I don't think there are any hard and fast rules — just guidelines to play around with.  Some thoughts:
Ladies — particularly those of you who frequently tuck — what are your suggestions with belts, and how to wear them with skirts?  Do you think there are any rules? 
Social media images: Deposit Photos / studio-fi.