Sure, we all know what basics professional women are supposed to have in their closets, but if you're buying one for the first time or replacing one you've worn into the ground, it can be a pain to find exactly the right incarnation in stores. In "The Hunt," we search the stores for a basic item that every woman should have.
The waist-cinching wide belt seems to be a new classic — it's an easy way to add some shape to a dress, sweater, or more, and it can be a great way to express your personality and add a bit of an edge. It seems like there are a ton out there right now that are both professional as well as inexpensive. We thought we'd round up some that are under $100.
Love the look of this one — the round buckle, the stretch fit, the pebbled look of the faux leather — there's something perfect about it.  It's $39 at Express.  CONTOUR STRETCH BELT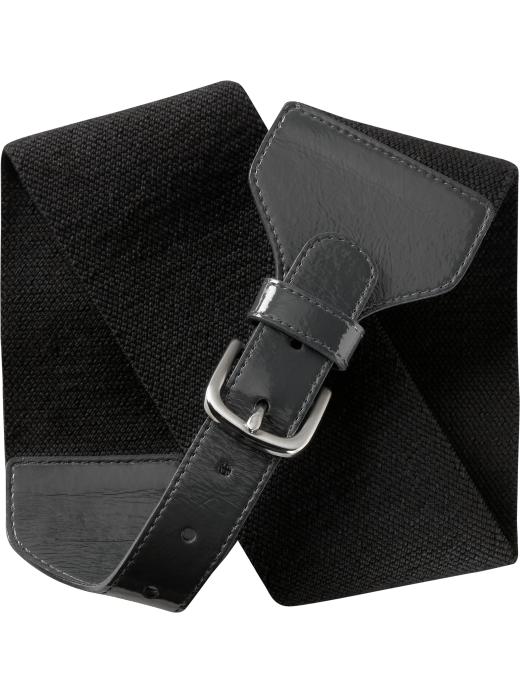 Although raters warn that this belt runs small, we love the wider-in-the-back, skinny-in-the-front take on the wide belt (although we imagine you've got to have a flat stomach to pull it off!).  It's $49.50 at Banana Republic.  Banana Republic Stretch and shine belt
This belt isn't *quite* as wide as the others, but we like that it's leather, and that it wraps with a tie closure.  (Gorgeous merino cowl neck sweater, also!)  It's $98 at Neiman Marcus. Layfayette 148 New York Leather Obi Belt
Love this Michael Stars belt, available in both black and cognac — the leather looks supple and soft, and the thin leather strap looks like it would be easy to knot.  It's $98 at MichaelStars.com. Obi Leather Belt
Like this feature? Check out other recent installments!
Readers, what belts have you bought lately?  Any favorites?