Sure, we all know what basics professional women are supposed to have in their closets, but if you're buying one for the first time or replacing one you've worn into the ground, it can be a pain to find exactly the right incarnation in stores. In "The Hunt," we search the stores for a basic item that every woman should have.
I have always done my winter coat shopping in January (if not later) because of all the deals that you can get. Coats in particular are generally classic pieces, and considering the amount of wear you may get from it (wearing it several days a week, for months, for several years — at least) I've always seen it as a justifiable "splurge" item.
For today's Hunt, I thought we'd look for wool coats that you could fit a blazer beneath. The trick here is to get something several sizes larger than what you normally get — if you're a size 4, consider looking at 6s and 8s. Readers, have you bought any great wool coats lately? Do you wear blazers beneath your coats, or do you have another system (e.g., keeping your blazers at the office)?
Some Recent Picks for Great Winter Coats
Some of our favorite latest trendier coats (as of 1/12/21):

First on deck: this nice charcoal tweed coat from Land's End. I like the little details (the belt embellishment, the slanted pockets) — and this is a pretty great sale: was $260, now marked to $125 in regular, petite, tall, and plus (you also get free shipping with a $50 purchase). Women's Regular Pattern Wool Swing Car Coat
Everybody always loves the J.Crew coats with Thinsulate® — and all of the colors are on sale right now. Originally $325, you have the classic colors (red, camel, black) marked to $275, with jade and white marked to $229, and berry — on final sale — marked to $180 (but with code STYLEFIND it comes down to $113). Double-cloth metro coat with Thinsulate®
A green coat is a bit unusual, but I still think you'd get a lot of wear out of this one. I love the feminine vibe here, and I also like the zipped pockets to the front. It was $555, but is now marked to $277 at Reiss (all sizes still left). Leo Fit and Flare Coat
Seriously, if you haven't been to the Nordstrom sale yet, do check it out — TONS of new items on sale, at pretty steep discounts. I'll try to do a round-up today or tomorrow, but for the moment, check out the Fleurette wool coats, many of which are up to 50% off. Take, for example, this double breasted wool coat — it's crafted from "sumptuous" Loro Piana wool, and as the 5-star reviewer notes, "this is a beautiful coat that fits and looks great." It was $795, but is currently $398 (lots of sizes left). Fleurette Double Breasted Wool Coat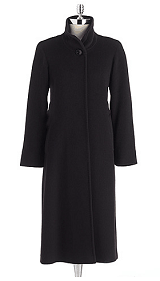 Lord & Taylor is another store with a great sale happening today: take an extra 25% off sitewide with code ONEDAY. That does include their coats — even this Cinzia Rocca maxi coat, which looks gorgeous. As someone who lives in a windy area, a coat with a tall neck is a must. Available in black and brown, this coat was originally $1080 — but then it was marked to $648 — and with the code it comes to (wait for it): $486. Nice. CINZIA ROCCA Stand Collar Maxi Coat
The Outnet seems to be having an unannounced big sale on designer coats, because there are a ton on steep, steep discounts. I like this collarless boucle wool-blend coat from Giambattista Valli, which I think looks great as styled (with a fairly classic outfit) but would also look great with weekend wear like jeans. It was $3,245, but is now marked to $975.12, 70% off. GIAMBATTISTA VALLI Collarless bouclé wool-blend coat
Like this feature? Check out other recent installments!