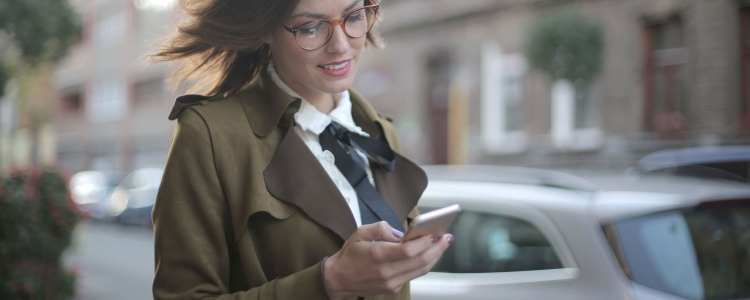 Reader E has a timely question: Which are the best lightweight jackets that look professional (other than a trench coat)? What's best to layer on top of blazers, sweaters, and more as the weather turns colder (finally!)? We haven't talked about lightweight jackets in a thousand years, so let's discuss!
Do you have any suggestions for lightweight jackets that look professional? My office is casual/business casual (lots of people dress casually but I try to step it up a notch). I have a quilted jacket from J.Crew and a lightweight trench, but I'd love to find something shorter than a trench that isn't a blazer. Something I could put over my outfit for chilly mornings. I know the military jacket style is in, but that's too casual and trendy for my style. Any help is appreciated!
Great question, E! I'm assuming by "military jacket" you mean the very popular olive anorak style like this or this, which can definitely be a bit casual if your style is more conservative. I love fall weather and coats, so I rounded up a few general options.
Reader E already has one, but I will note that I think every woman should have a lightweight trench in her closet — it's a classic piece, and many of the styles are sold with removable liners and hoods so you can adjust them as needed for the weather — and when we've talked in the past about what jackets to wear with skirts and dresses, a longer trench is usually what's in my mind. (I'm a fan of the mid-thigh-length ones, but they also certainly make calf-length ones, if you prefer a longer, more dramatic look.)
I'd add that a nice big scarf is a great option to add on top of these, both as an additional, removable layer of warmth and possibly protection for your hair from wind/rain. Personally, I'm a fan of bigger wraps like the office pashminas we rounded up in our post on why to keep a wrap at the office — but that's me!
Pictured at top: green / animal print / camel.
Pictured above, great sweater jackets for the office as of Nov. 2021: navy / black / gray / cropped black / beige (not pictured but also)

This post contains affiliate links and Corporette® may earn commissions for purchases made through links in this post. For more details see here. Thank you so much for your support!
The Sweater Blazer
Pictured above, great sweater jackets for the office as of Nov. 2021: navy / black / gray / cropped black / beige (not pictured but also)
A sweater blazer can feel more comfortable than a blazer because you've got greater ease of movement, but it can be warm and stylish like a blazer.
The Feminine Jacket
You say you don't want a blazer, so this may be too close for your liking — but there are a lot of fun, sophisticated jackets that are a bit more buttoned up than a blazer (so, warmer) and on the shorter side. A lot of these may come in textured, sturdy fabrics like tweed, corduroy, and velvet.
Another option: festive blazers in velvet!
2020 update: velvet blazers! black / red / green / black
A Cashmere Ruana, Stole, or Wrap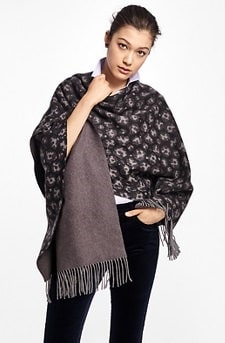 I've sung the praises of the Brooks Brothers ruana in the past and finally picked up one for myself during one of their spring/summer sales. This reversible animal print/gray one, in fact — it's still available and currently marked to $209 down from $698. When I first got it I was a bit bummed that it was more like a poncho than I thought it would be, with more of a definite "collar" and shape to it than my other nice big wraps. (And I'll admit, I was so undecided, if the return window hadn't passed without my noticing, I might have sent it back.)
But now that is fall, I'm surprised how often I reach for it. It's warm, it's crazy soft but sturdy, it goes on top of blazers as well as simple long-sleeved t-shirts.
Ultimately I'm very happy with the purchase and know I'll have it for years to come.
Cons: no pockets. Pros: It hangs nicely on a hanger just like a coat would. Brooks Brothers has a ton right now, some as low as $136, some as high as $3,998. (I can't speak to the quality but it looks like Uniqlo also has some similar stoles for $20ish.)
A few other wraps we love…
Some of our favorite office pashminas as of 2021: black / beige / gray (lighter weight) / lavender ($15!!). If you're looking for more of a ruana jacket, I highly recommend the Brooks Brothers' ones!
The Long Cardigan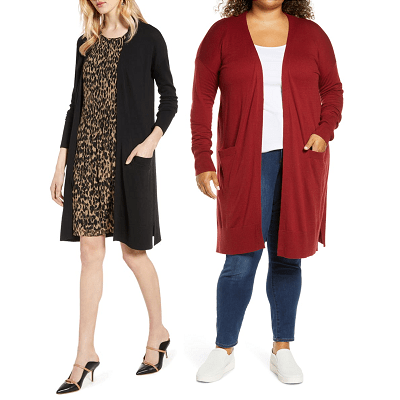 Mine is from Halogen from several years ago, and they keep coming out in new colors, and fabric weights (a linen blend for summer, wool & cashmere for fall), and they're highly rated. If you're younger/trendier you may get away with a slouchier "grandpa" cardigan type of look (affordable, splurgey); if you're more conservative/older you may want to upgrade to one from Eileen Fisher or Lafayette 148 New York. I think they look good with ankle pants, flared pants, dresses, skirts, jeans… Pictured.
Readers, what do you think are the best women's lightweight jackets for the office for fall and spring? Do you have a favorite trenchcoat, sweater blazer, or other lightweight jacket that looks professional?
Social media picture via Stencil.