Which are the best commuting shoes? Staying fashionable on the commute is a dilemma for a lot of professional women — and today's guest poster has the answer! My friend Kai Falkenberg — newsroom lawyer for Forbes and all-around fabulous and fashionable overachieving chick — rounds up some of her favorites for Fall 2011. Welcome to Corporette, Kai! – Kat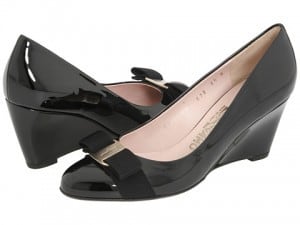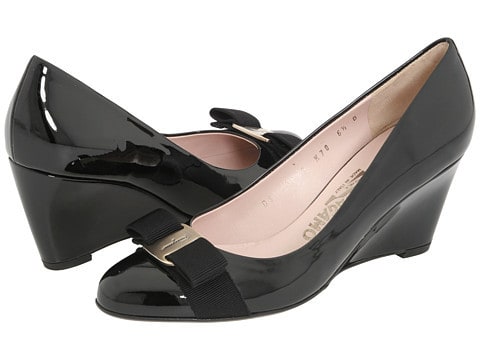 For those like me whose commute involves walking – and occasionally running – street friendly shoes are a must. Long ago I decided changing shoes at work was not for me – wearing sneakers with suits looks ridiculous and it requires too much carrying back and forth. So I was forced to seek out shoes that could brave the subway but look stylish in the boardroom. After years of searching, I've finally discovered what works – and it's not flats. Unless you're blessed with height, women in the corporate world should wear heels. Particularly if you're in an office of mostly men, it's important to be eye level with your peers and that usually requires wearing heels. The solution I've found…. is wedges. So most days, regardless of season – you'll find me wearing some version of a wedge heel. When I'm not wearing wedges, I wear stacked heel shoes – thick heels usually 1 to 2 inches high that provide height without altering your gait. For this Fall, I've spotted a number of shoes that could walk the distance…here's a sampling, below.
These kate spade new york 'dale' pump
(available at Nordstrom for $298) are a rare find. The tortoise shell stacked heel is both stylish and comfortable. Black patent works for all seasons and the detail on the heel makes them really stand out. These are a "must have" on my fall shopping list.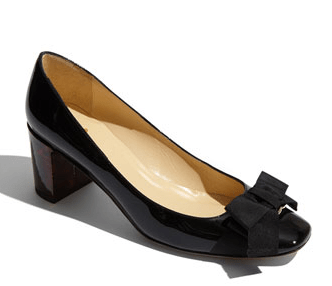 These Stuart Weitzman – Dotsun
wedges are from last season but they're now on sale at Zappos for $275 (down from $325). They would work well with both skirts and pants and the gold studs give the feminine bows a bit of an edge. They're a great investment and in my closet would get lots of wear.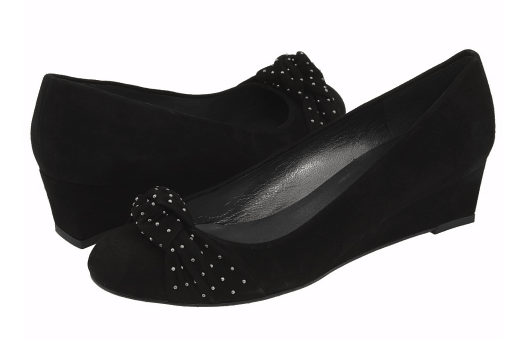 These "Marli Too" heels from Kate Spade New York
are a great go-with-everything wedge. In addition to the rich chocolate suede pictured, Zappos has them in light camel, navy patent and black patent ($275). They're perfect for pant suits and will still look chic after many seasons of wear.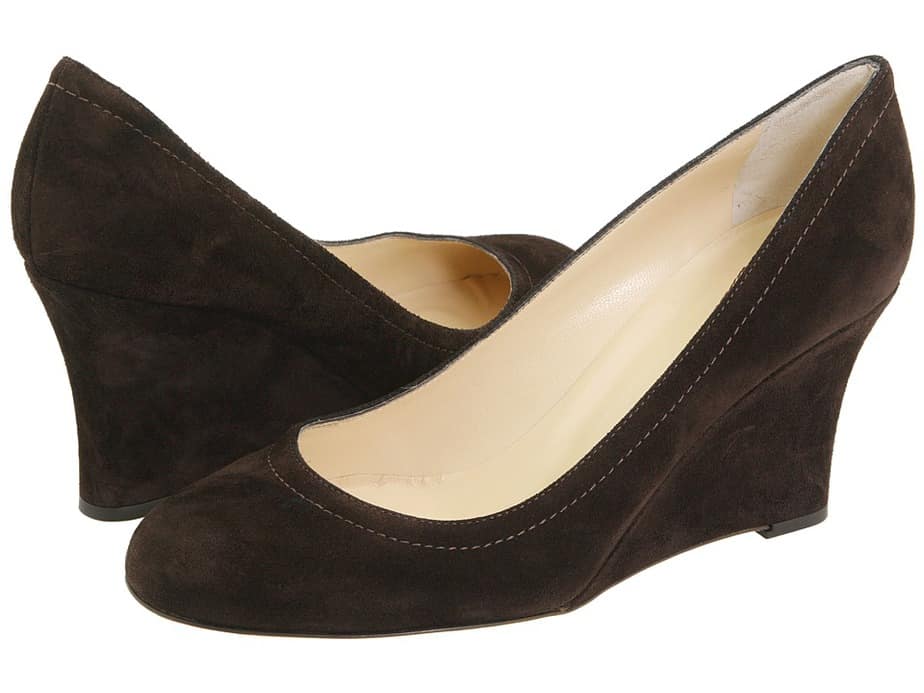 I've never worn Vera Wang shoes but I'm thinking of trying out these "Monique" heels
($250 at Zappos). I find the elastic back exceedingly comfortable. As many have discovered, wearing nude-for-you shoes lengthens your legs – and the patent gives these a little extra oomph. They'd look terrific with a black suit or with a white blouse and a khaki skirt. If pinky beige isn't your color, Zappos also has them in black.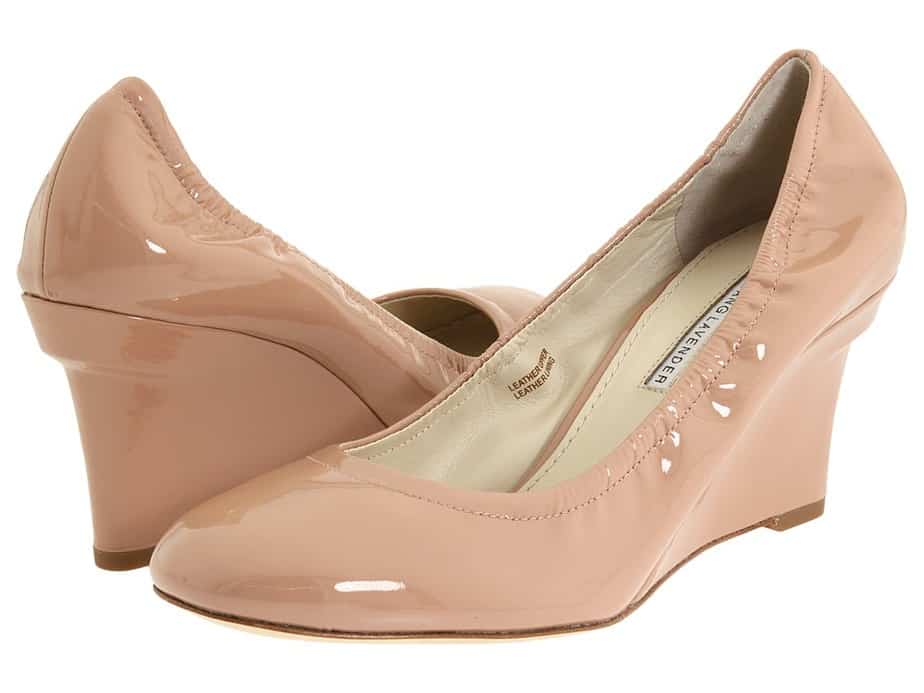 Friends of mine have sworn by the Cole Haan heels with the Nike Air technology and this Fall I'm taking the plunge. I have a worn out pair of black patent wedges with rubber soles that are my equivalent of sneakers. I've decided to swap those out for these Cole Haan Air Talia wedges
which are very reasonably priced (just $178 at Zappos) given that I'll practically be living in them. They're also available in black suede
and lantern patent
(which might be good for fire drill days in my role as fire marshall).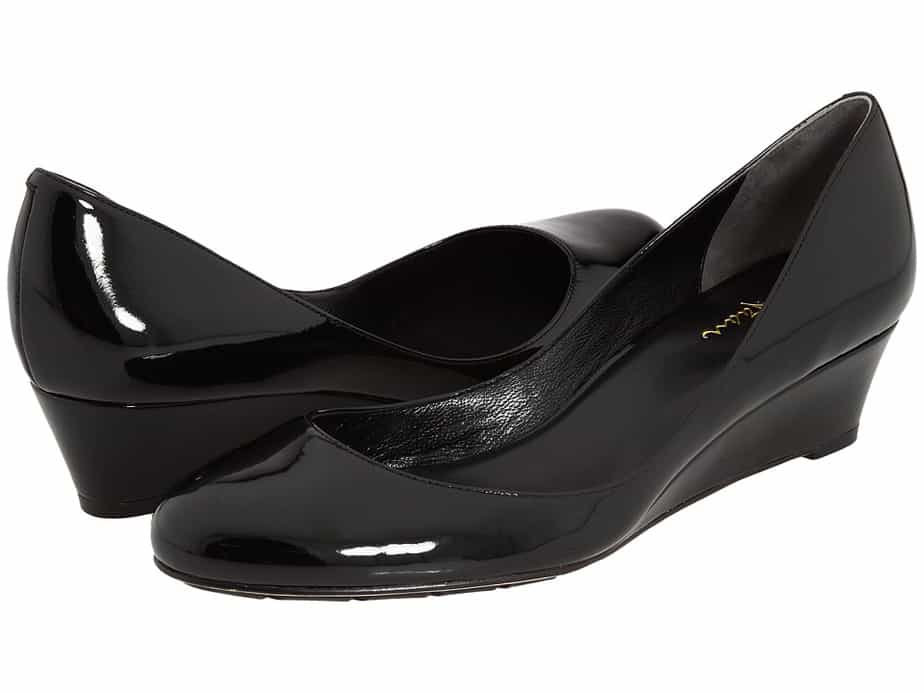 I've included two splurge choices which I'd rationalize as worth it given the amount of use you will get out of them. These Jimmy Choo 'Moore' pumps
are made of snake embossed patent leather. They'd look great with a pencil skirt or ankle length pants. They've got just the right amount of bling to accent your outfit without overdoing it. At $495 from Nordstrom, they're a lot less than most other Jimmy Choo heels.
Another worthy splurge — these Salvatore Ferragamo "Flo" wedges
are a new take on a classic ($490, Zappos). They are timeless and work for women of any age. They'd be a perfect choice for a business trip —  and would complement a wide variety of outfits from grey pinstriped suit to a beige tailored shift dress.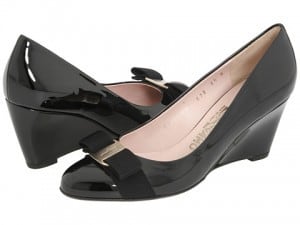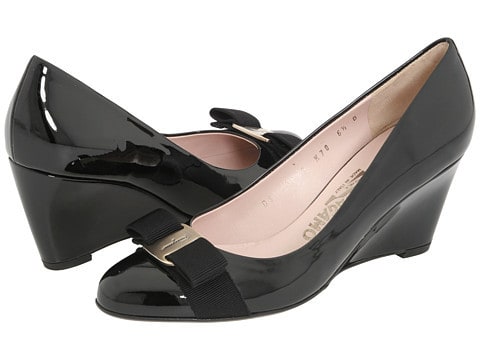 Found other street-friendly shoes to add to this list? Share 'em here!
Interested in writing something similar for Corporette? Check out our guest posting guidelines.