Which are the best commuting shoes? Staying fashionable on the commute is a dilemma for a lot of professional women — and today's guest poster has the answer! My friend Kai Falkenberg — newsroom lawyer for Forbes and all-around fabulous and fashionable overachieving chick — rounds up some of her favorites. Welcome to Corporette, Kai! – Kat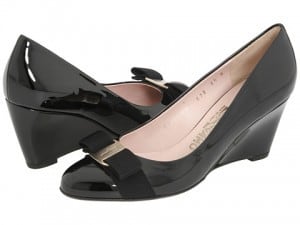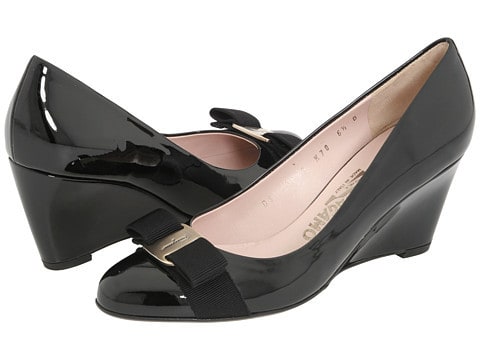 For those like me whose commute involves walking – and occasionally running – street friendly shoes are a must.
Long ago I decided changing shoes at work was not for me – wearing sneakers with suits looks ridiculous and it requires too much carrying back and forth.
So I was forced to seek out shoes that could brave the subway but look stylish in the boardroom. After years of searching, I've finally discovered what works – and it's not flats.
Unless you're blessed with height, women in the corporate world should wear heels. Particularly if you're in an office of mostly men, it's important to be eye level with your peers and that usually requires wearing heels.
The solution I've found…. is wedges. So most days, regardless of season – you'll find me wearing some version of a wedge heel.
When I'm not wearing wedges, I wear stacked heel shoes – thick heels usually 1 to 2 inches high that provide height without altering your gait.
For this Fall, I've spotted a number of shoes that could walk the distance…here's a sampling, below.
Our Latest Favorite Wedge Heels
As of Sept. 2023 there are a lot of wedge heels for work lately that look great for commuting or learning to walk in heels… Nordstrom especially has a ton! Some of our current favorites:
Other Great Commuting Heels
If you're hunting for commuting heels, as of 2023 we'd recommend brands like FLY London, Dansko, Eileen Fisher, Børn. These help you maintain height for pants hemmed for heels — but with more comfortable shoes for your commute.
Another option: wedge sneakers.
Found other street-friendly shoes to add to this list? Share 'em here!