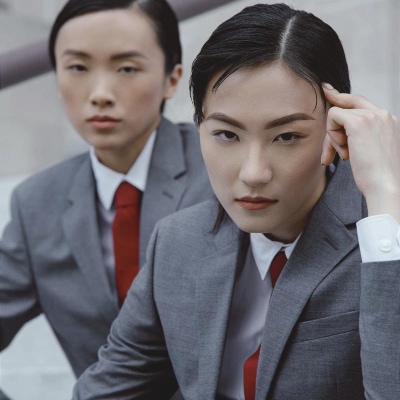 Reader A thinks her look is too "tomboy" for the office…
I am writing to you in hopes for some advice on how to change from a "tom boy look" to a mid-level executive in a financial institution.

I know that your blog is mostly geared toward New York lawyers, but while I am neither of those (Dallas, Tx – Financial Analyst), I am confident that you can help. A little bit of background…I grew up in a very small town climbing trees and playing with boys. In college, my dress attire was jeans and over-sized T-shirts. It wasn't until my senior year that I started wearing T-shirts that fit.

Making the transition from college life to financial institution was a little easy back home, (South Texas/Rio Grande Valley), but now that I reside in Dallas, I feel that my current wardrobe isn't cutting it. My current attire is grey slacks and a button down or simple one-tone blouse. While I mentioned my basic attire, please note that I own about 2 pairs of slacks/dress pants (black and grey) and 2 button downs (purple and maroon).

I have a pair of black shoes and I wear those with black dress socks.

I have never been a "girly-girl" (not that I am opposed to it), but I have always lacked the ability to match colors and styles without looking hideous.
This is a great question, A. What you're wearing doesn't sound so bad to me (albeit a bit boring, but there's nothing unprofessional about that), but the vibe I'm getting from your email is that you don't feel elegant, feminine, or sophisticated. I think it's important to distinguish unprofessional attire from attire that isn't elegant/feminine/sophisticated — there have been a lot of very, very successful women who wore nothing but boxy suits, had masculine haircuts, and wore clunky heels (or flats).
This post contains affiliate links and Corporette® may earn commissions for purchases made through links in this post. For more details see here. Thank you so much for your support!
We are a participant in the Amazon Services LLC Associates Program, an affiliate advertising program designed to provide a means for us to earn fees by linking to Amazon.com and affiliated sites.
In fact, to a lot of older people (both men and women) that is the best way to convey that you're serious about your job. (I was just reading a comment on an older post about whether long hair is appropriate — the reader noted that when she ran for office, no one took her seriously until she cut her mid-back-length hair into a Hilary Clinton cut.) 
That said — my own attitude (and the ethos behind this blog) has been that today it is possible to walk the line between something feminine and fun, but still be professional. Sometimes we have debates on what's appropriate for the office; sometimes it really just depends on what's right for your office. There are some easy ways to add feminine flair to your outfits, though, that should be pretty safe advice no matter what your office.
1) Add heels. They don't have to be high; in fact I would recommend starting with what you can walk in. (You may want to check out our Guide to Comfortable Heels, and the comments there!)  Keep in mind that as you get better in walking in heels, a slightly pointy toe and a skinny heel will be the best way to elongate your legs and make your look more feminine.
How pointy a toe is appropriate is something that changes with fashion — long pointy toes were popular a few years ago (looking back, some almost looked like elf/witch shoes!); nowadays a very slight point is popular. I would suggest looking online at some of the high-end brands, such as Manolo Blahnik, Christian Louboutin, and Ferragamo, to get an idea of what your ideal shoe right now would be, and then looking in whatever range your budget/walking ability allows.
These are some of our favorite comfortable low heels for work as of 2022! one / two / three / four (also Ferragamo, MMLF, and Sarah Flynt!)
2) Add jewelry. I'm a big believer in jewelry adding a lot of personality to your outfit. To start small, you may want to get a good set of fake pearls to try out how those feel with your button-downs and t-shirts. (You can always invest in a better set from Mikimoto or even your local jewelry store later on.)  Similarly: what watch are you wearing? If you're wearing a sporty watch, this might be a good time to investigate how a more feminine watch might feel, either with a leather strap or a metal strap. Earrings are the third "start small" piece that  I'd recommend. Personally, I hate posts, but I feel like dangly earrings are inappropriate for many offices (and distracting if you move your head a lot) so to me the perfect office earring is the "huggie," so named because they're hoops so small that they hug your ears.
Hunting for great jewelry for the office? As of 2022, we're long been fans of affordable brands like Kendra Scott and Gorjana, as well as mid-tier brands like Monica Vinader, David Yurman, and Stephen Dweck. For our $.02: spend money on things like a good watch (or watch strap), gold or diamond earrings, a pearl necklace, and more.
3) If you're not already wearing makeup, add some. It doesn't have to be a lot — sometimes just a lipgloss with a slight tint is enough for women. (It's a bit too light for me, but a number of friends love Fresh Sugar Plum Lip Treatment SPF 15, or I've written before of my love for CoverGirl Lipslicks. Clinique Almost Lipstick is another classic.) Have a good friend help you with this if you're really clueless — how does your face look right now? For me, I know I look a lot prettier when I add concealer under my eyes, curl my eyelashes, and add a bit of blush and a bit of color to my lips — I generally don't leave the house without those. For work I also wear mascara, eyebrow pencil, eyeliner, lip liner, and lipstick; for nights out I'll wear 3-5 different shades of eye shadow as well as a few more coats of mascara; I'll also use a highlighter like Touche Eclat or wear a sparklier blush, like NARS The Multiple Orgasm. My point here is that makeup is not an all or nothing proposition — it's a continuum, and even just wearing a little bit can help you look and feel more feminine.
4) Find inspiration in a celebrity or public figure (anyone who's photographed often), or even a character on television. I would recommend looking for someone with your body type to get the most out of this exercise. Take note of what she wears — how does the fit of her clothes differ from yours? Is there a color combo that she wears that you could try? How about her jewelry and shoes — can you add more personality to your outfit that way? Another option here would be to find a few static photos of this celebrity/character that you really love — I would say 6-10 photos — and visit a personal shopper (such as one at your local department store), or even a personal stylist. For my $.02, I think it's important that you go in with an idea of what you want to achieve before you meet with them, but maybe that's just me.
Readers, what are your best tips to add femininity to the professional wardrobe? What do you think about Reader A's question?
Updated stock photo via Pexels / Luca de Massis. Originally pictured: Tomboy Shorts, originally uploaded to Flickr by FredoAlvarez.