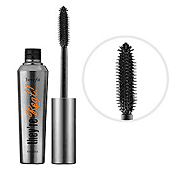 So it takes a lot for me to rave about a new beauty product, but I really do love this mascara that I recently bought, They're Real! from Benefit. I'm not sure if it's the formula, the brush, or what, but this is my new go-to for a night out. The mascara adds a ton of length, drama, and va-va-va-voom to my eyelashes. I have the mini size, available for $10 from Sephora; the full size is $22.
On a day-to-day basis I'm liking (but not loving) Lancome's Defencils; prior to that I loved L'Oreal's Voluminous for daily wear.
Readers, which are your favorite mascaras (both drugstore and high-end)? Have you found any other new rave-worthy beauty products?
(L-all)