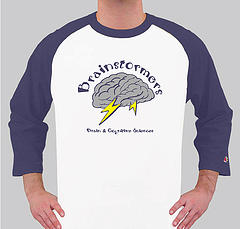 By the time I started working in BigLaw, I'd had about seven jobs before that.  For four of those jobs, my bosses were women; the other jobs (lifeguarding and two fashion magazines) were, well, not exactly testosterone-fueled environments.  Everyone had called me by my first name, and we generally enjoyed a collegial atmosphere.  However, when I started working at the law firm, I began to notice what felt like a very male-friendly environment.  Nothing was sexist, per se, but it still contrasted sharply with the work atmospheres I'd known before, and made me feel out of place.  (Pictured: Team jersey, originally uploaded to Flickr by nats.)
One of those things was being called by my last name. I'd always hated sports growing up (despite having, at various points, been a member of the tennis and swimming teams), and nothing annoyed me more than people saying "Let's call Vogele" or "Whazzup, Vogele?" (As you may have guessed, my maiden name is Vogele.) What annoyed me even more about the last name thing was that it wasn't men who were perpetuating it — it was women, who, I assumed, were trying to fit in with the old boys' club.
At one point, in my first or second year, I was on a team of four female associates, led by another woman or two in charge of us — and yet we still all went by last names. One night, behind closed doors, I ranted to my good friend about it, going on and on about how much I hated it.  Was I supposed to catch a ball sometime soon, or go long?  (Alternately, where was my pipe, whiskey, and manservant?)
And she pointed out that two of the four of us had the same first name. Well…. FINE.
I've learned to live with being called by my last name only — but I'm curious what everyone else's take on it is? Do you get called by your last name in your workplace? Does it seem like a part of the old boys' club?  Are there other little things that grate on your nerves?