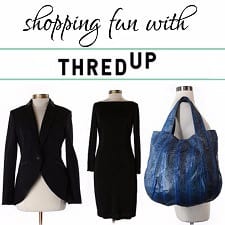 Disclosure: This post is sponsored by thredUP, but written by your usual friendly blogger, Kat. Curious about what we mean by "sponsored"? Click here for more details. New to ThredUp? Click here for $10 off your first order.
As the weather gets warmer and you start putting aside your winter clothes, now is a great time to do a seasonal closet review and assess the holes you need to fill for the coming season, as well as what you really wore this past season — and consider how to get rid of the stuff you aren't wearing (or aren't excited to wear again), especially if the stuff is like new. I'm far too lazy to actually haul my stuff to a consignment store in person, and the pile of "stuff to sell on eBay" just never seems to move, so I've been thrilled to have a bunch of great experiences with thredUP, which is the largest online thrift store that buys and sells high-quality secondhand fashion (for as much as 90% off!). (This is a sponsored post, but my enthusiasm is real.) There's also been a bunch in the news lately about how to be a more ethical shopper, and shopping vintage and consignment is definitely one way to do that.
Here are three things I love about the thredUP experiences I've had so far:
1. Cleanout is EASY with thredUP.
First: I love that they send you an absolutely ginormous bag that you can use to clean out your closet. These things are huge! (I think my first introduction to the brand was seeing someone else's bags waiting in my apartment lobby for pickup — they're gray and green and so much bigger than what normally comes or goes in the mail.) I've STUFFED several thredUP bags now, and I have never had a bad experience — sending shoes (in shoe boxes!), bags, dresses, shirts, coats, and more. The company prefers clothes that are recent (definitely within the last five years), and are in really good condition — and they have a list of which brands they prefer for women and children, as well as what items in particular they're looking for right now. I always turn on "return assurance," which means that I don't review any of that stuff and instead just pay $10.99 to get anything they don't accept returned to me. (Otherwise they donate it, which is also another great option.)
2. Selling is super convenient too.
Once your cleanout bag arrives and gets processed, the thredUP team triple inspects each item by hand to ensure all the clothes are like-new, and then THEY take pictures and describe the piece (including any imperfections). Some items they'll accept outright and give you an "upfront payout" amount — other items that might sell for more they'll accept on "consignment payout," with a suggested price for resale. Then, you can go in and change the pricing, adjusting it up (I'm not ready to part with it unless I can get $$$ for it!) or down (I do not want to see it at my doorstep again!). thredUP is very open about how much of a cut they're taking. (My view is that their "cut" is totally worth it considering I don't have to bother photographing my items, describing them, answering questions from potential buyers, shipping them, or other fun.)
For your "upfront payout" pieces, as well as whatever sells in consignment — they give you that money in your account. You can then request a check for cash, or — as I usually do — is just turn around and spend it at thredUP.
For example, a few months ago I sent in a bag with a ton of dresses, tops, and bags I wasn't wearing, including some of my maternity dresses. Some of the stuff they took right away as "upfront payout" — mostly things that wouldn't have sold for more than $20 on the site anyway — while a few of the "bigger" pieces they took as consignment payout pieces. Everything sold (although I think I did adjust the price down on the Beirn tote.) I actually just sent in another two big bags that are still being processed by thredUP right now.
Here was my upfront payout, meaning this was stuff that was accepted off the bat (including two sweaters my MIL gifted me, shhh):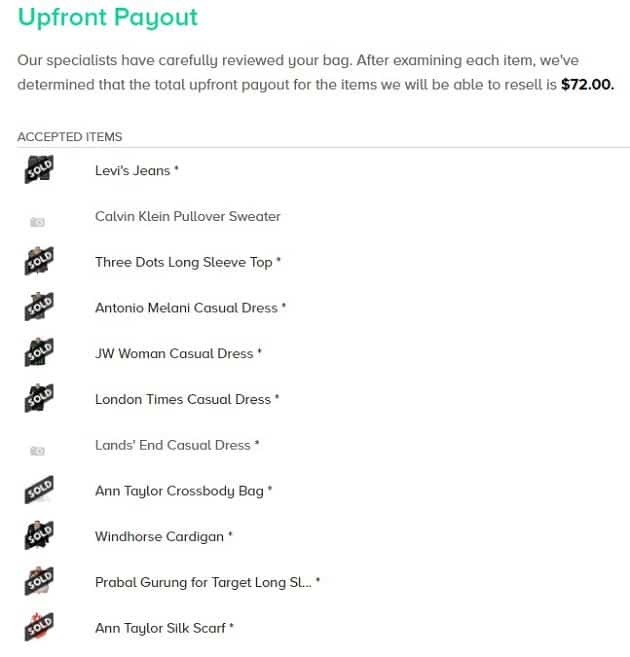 And these were my consignment payout pieces — note that the payout percentage can vary.

3. Buying things at thredUP is super easy — and they've got a great selection with great prices.
I've mentioned before the deals I've gotten at thredUP, and I love even more that I was able to use cash in my account in order to do it. (It feels less like "shopping unnecessarily" and more like "turning like-new clothes I already stupidly purchased and don't wear into nice clothes that I actually DO want"). I love that you can filter by sizes, checking several sizes at once "and their equivalents" to account for European sizing — and I love that once you log in, thredUP remembers your sizes. This way, a) you don't have to set up the filters each time you come on site and b) you don't get super excited to see something on sale and then realize it's only available in something that is not your size. You can also limit sizes by petite, tall, plus, or maternity sizes. There's a huge variety in brands — right now you can buy something from Armani and Merona in the same transaction. They add 15,000 items every day, so there's always something new to find.
Some of my greatest hauls from thredUP:
a Rag & Bone blazer for $51 — I couldn't believe my luck! It's like new, black wool with leather details, and it was $495 when it was new. (This was part of my first order so I believe the price included a $50 promotion from the site.)
a David Meister dress for $35 — it's a simple black sheath dress with a boat neckline and ruched details along the sides. It was $368 new (and also part of my first order). (I had a David Meister dress years ago that I thought of as my "hot mama" dress (um, here's a totally unflattering picture of me in it) — it fit perfectly and was amazing. Thanks to Rent the Runway credits and the fact that most of our date nights are pretty laid back, I haven't had any formal-but-fun occasions that required the purchase of new clothes in a while, so I was super psyched to get it another dress from the brand for such a great deal.)
a blue Beirn tote bag that I've always wanted (the one I sold was a longer, bigger tote that I found to be an awkward size) for $95, down from $327 — it was actually marked $119 but thredUP was having a 20% off sale, so I took advantage of that. I've got a matching wallet in this bright cobalt leather so I knew I loved the leather and the brand.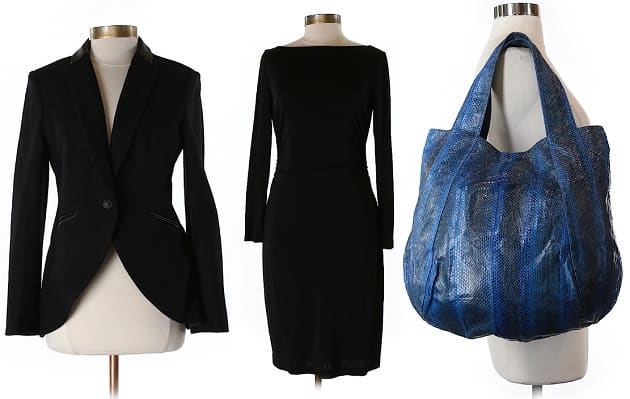 In addition to the huge variety that thredUP has, it's great that you can get free shipping over $79 — and you can get free returns if you choose store credit (which if you're like me you're probably using to buy anyway). There are some final sale items that aren't returnable, but those are usually killer deals.
Recently, doing a hunt right now on size M turned up a ton of great items, including: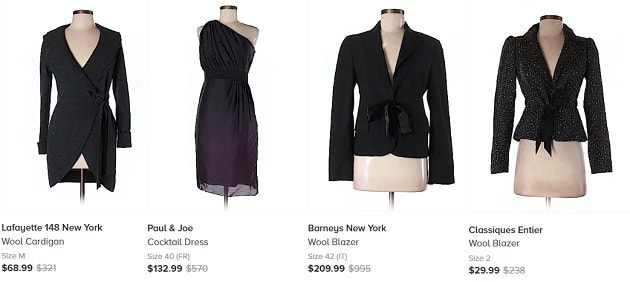 Once you place an order, your new items arrive folded with care, wrapped in cute tissue paper inside of a thredUP's signature polka dot box. Win win.
Readers who have tried thredUP — what were your thoughts? For those of you who HAVEN'T tried thredUP, you're in luck: thredUP is offering Corporette readers a special discount! The first 100 people to use code CORPORETTE40 will get an extra 40% off their first order. (Applies to new US customers only; discount is up to $50.)
Thank you so much to thredUP for sponsoring this post!