Whether you've got a small apartment closet or yours rivals that of Kim Kardashian's, reviewing your clothes on a seasonal basis is still a great idea.
I've always been a fan of seasonal clothes storage, using clear sweater bags to store out-of-season fabrics, colors, and styles — as well as physically moving out-of-season clothing to the back of the closet, and moving more seasonally-appropriate clothing to the front.
I even do this with socks (I only wear no-show ankle socks in the summer) and lingerie (I don't wear lacy bras with summer t-shirts and dresses, and I've also found I have a preference for unlined bras in the summer, as a foam lining or whatnot can feel a bit hot).
Stay tuned for some of our favorite products to organize your closets!
This post contains affiliate links and Corporette® may earn commissions for purchases made through links in this post. For more details see here. Thank you so much for your support!
Some pros to a seasonal clothing review that I've found over the years:
1. You get to rediscover clothes you haven't seen in a while.
Let's say you have a butter-yellow top that, for whatever reason, isn't in your regular mix of outfits. Sure, you can wear butter yellow year-round — but by packing the top away with spring clothes, you might get excited to pull it out in February or March and it might get some wear.
On the flip side, if you take it out again in March and think "yuck, this thing again," it forces you to confront the top, weigh how it fits into your wardrobe, and may even motivate you to sell or donate it.
If it had just sat in your closet all year, odds are good you'd have forgotten about it entirely until you did a massive closet purge. (My grandmother used to love this rediscovery, saying gleefully that it was "just like finding it!")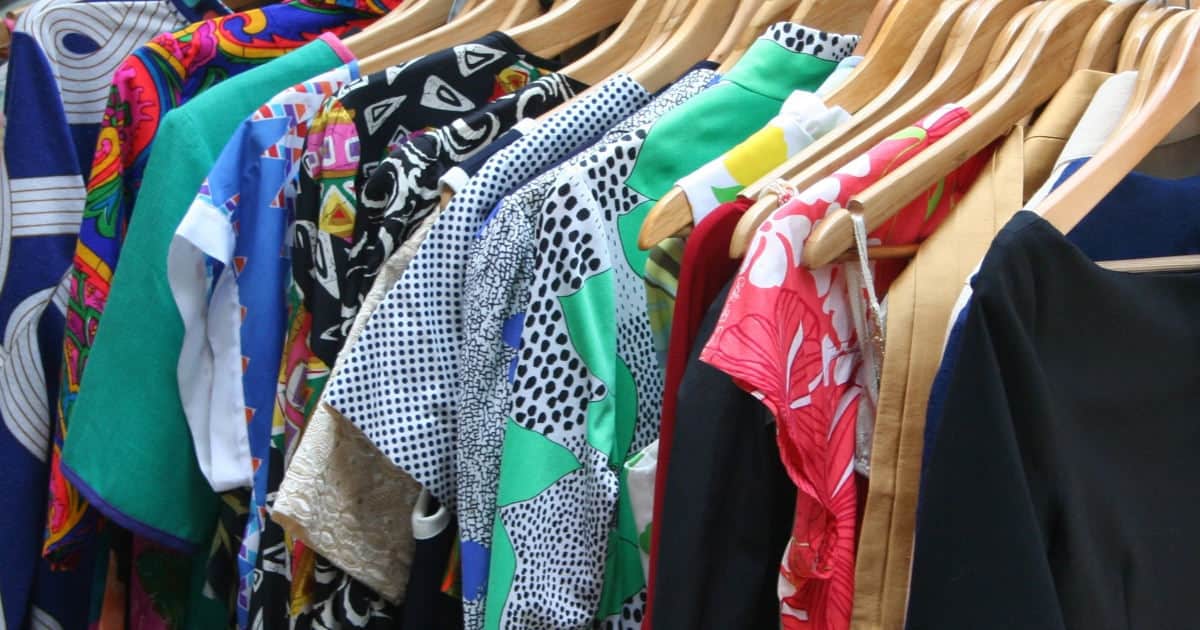 2. A seasonal clothing review forces you to identify what's in poor condition.
Particularly when a piece of clothing is a favorite of mine, it may stay in rotation for far too long past its prime. I may recognize this when I start to put it away with the other seasonal clothes… but I'll definitely recognize it when I'm pulling it out many months later, when I see it with fresh eyes.
3. It lets you take advantage of end-of-season sales.
Maybe you wore a few pieces all the time; maybe you didn't touch something you thought you'd wear. By actively sorting through your seasonal clothes you become aware of what what got used and what didn't — and it helps you take advantage of end-of-season sales to fill the gaps or buy more of something you loved.
Plus, if you've identified that something is in poor condition (linen cropped pants, for example) then you can keep an eye out during the end-of-season sale and decide whether or not to get a new pair.
(Note the retailers' return policy if you're buying things you plan to wear several months in advance — Nordstrom and Boden have very friendly return policies, while other stores may be 30-45 days, or less.)
4. When you join your old fall stuff with your new fall stuff, magic happens.
I've talked about my love of playing closet — this can be a great time to do it. You'll see new outfits and combinations that you may not have even thought about before.
Ladies, what about you — do you do a seasonal clothing review? Do you have any great stories of things in your closet you'd forgotten about, new combinations or outfits you discovered, or just the general peace that comes from hitting "reset" on your wardrobe?
Pictured: Pixabay
We are a participant in the Amazon Services LLC Associates Program, an affiliate advertising program designed to provide a means for us to earn fees by linking to Amazon.com and affiliated sites.