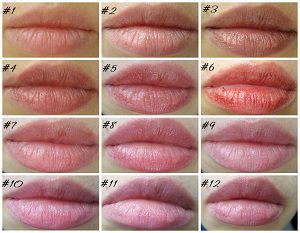 I have an unhealthy addiction to tinted lip balms, and given that I really tend to jettison my heavier lipsticks during the summer months, I thought now would be a perfect time to round up a few of the various tinted balms I've tried, with pictures, swatches, and more. I've always found tinted lip balms to be great for a fast and easy beauty routine, from my days as a stressed-out student, to a time-starved lawyer, to a busy mom now — they're generally a no-mess application, with a moisturizing feel, and if you're lucky, SPF to boot.
This is obviously not an exhaustive survey, just the various products that I've bought and tried and still have in my current collection. (I've also owned Fresh's Sugar Lip Treatment in the past, but don't seem to have it any more — looking at Sephora it looks like they have a ton of new colors, AND they all have SPF 15, so I may have to try them again.) Here's my report, comparing and contrasting them all to everyone's favorite: Clinique Black Honey…
#1. My lips, bare. I must apologize in advance for how much we're going to be looking at my lips in this post — it feels a bit like the visual equivalent of saying "orange orange orange orange" over and over again. Nope, I never noticed how unsymmetrical my lips were before either.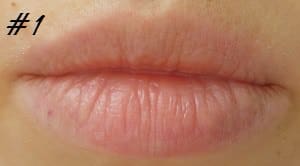 Here are the tinted lip stains I'm rounding up today… note that I have done absolutely ZERO color correction on any of these pictures. (I tried — particularly for the picture of the paper with the swatches — but every time I or someone else did the color correction so the paper read as white, the lip tint colors looked different… so I decided to use the originals.) Some notes:
Kat's favorites: 2, 3, 4, 5 (probably because of color alone)
Most moisturizing (IMHO): 9, 10, 13
SPF: 7, 9 (and Fresh)
Organic: 4, 6, 10
Most variety/colors to choose: 2, 4, 7, 10, 11, 12 (and Fresh)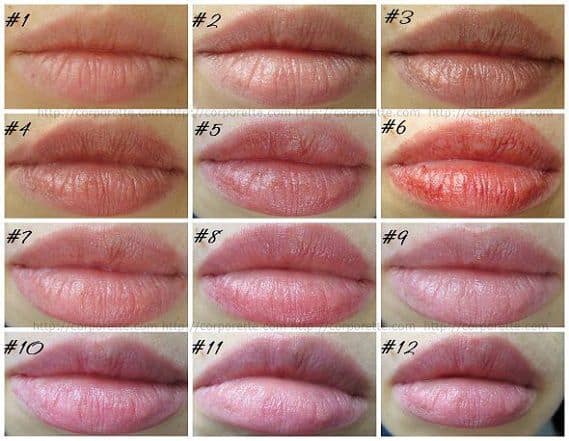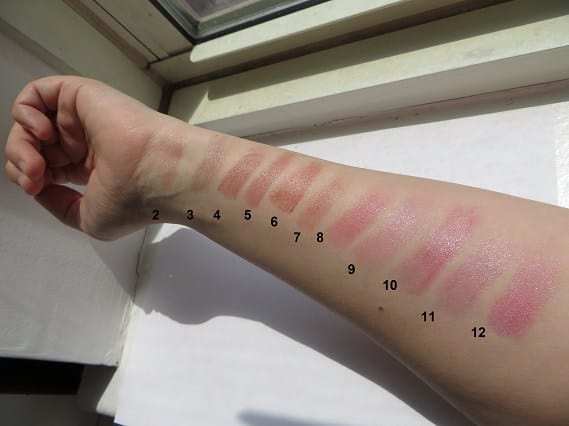 | | |
| --- | --- |
| | |
#2. CoverGirl Lipslicks Smoochies Lip Balm, Tru Luv 235, available at Drugstore.com for $4.99. I have two of these in the roundup because I bought the pinker one (#12) after trying it on at a Fashion Week thing, then deciding it was too pink for me, but liking the feel and scent enough that I wanted to try another color from the 18 available (!). I do like #235 (the one pictured below), but it is VERY light — and the color doesn't get that much darker if layered. This is truly a "MLBB" kind of shade — my lips but better. As it turns out, Drugstore.com has a coupon that lets you save $4 on TWO Covergirl Lip Products — so if you wanted to try them, now might be the time. (Ooh, and they have a Jumbo Gloss Balm, which I totally have not tried but now want to. See? I tell you, it's an addiction. The balm sticks like Clinique's Chubby Stick could be another roundup entirely, I suspect — anyone have any favorite stick balms?)
#3. Cover Girl Lipslicks, Edgy. I've sung the praises of this tinted balm before — I hope it hasn't been discontinued, but it does seem like it's hard to find at the moment. (I must have bought it in bulk a few years ago; I have three or four tubes laying around the apartment!) At the moment, it's available at Amazon and possibly at your local Wal-Mart. You can see why this is one of my all-time favorites (since my teens, seriously) — it's not too pink, not too red, just a slight darkening of your lips for more definition. It goes on evenly enough and lightly enough (the color gets darker if you layer) that I've been able to apply without a mirror. Compared to the newer CoverGirl Lipslicks, the newer ones have a fruitier, fresher scent than this one, and a very similar feel.
#4. Yes To Carrots Color Lip Balm, Soft Plum, available online at Amazon for $5.97. I generally like this affordable, organic line (particularly for maternity skincare), and this balm is similar to the other products — it's advertised as being 99% natural, free of parabens, phthalates and SLS, without any animal testing. After taking these photos I realized that I like this tinted balm more than I thought I did! It's a great color, and even though it's a bit drier than I normally like for a balm, it's still hydrating. It isn't sticky or shiny at all. I wish the tube had a slant to it (it's just flat) and that it had SPF, but otherwise it's great.
#5. Clinique Black Honey, $15 at Sephora and Nordstrom. The classic! I like that this one goes on very smoothly, and while you need a mirror to apply the tube is small enough that you can get a precise application without liner. Nice feel. I do wish it had SPF in it and was just a touch darker, but that's me. They recently expanded the line to include more colors — I just finished a tube of another color (Honey I think? They may have discontinued the expansion because I can't find it anywhere for a link!). I was glad to have it, but came back to Black Honey in the end.
#6. Badger Lip Tint & Shimmer – Garnet/Opal, available at Amazon for $4.99. This one is advertised as being 94% organic (USDA certified), tinted with safe USP-grade minerals. This is a brand I trust for some of my son's products (bug spray and the like) — so I'm bummed that I dislike this tinted balm so much. The color is heavy enough that you need lipliner and a mirror to apply it, but it doesn't go on evenly, and as soon as you smack your lips together it clumps up in weird places. One of the alleged pros here is the second gloss, an "opal shimmer" — again, it's not my cup of tea (either worn alone or on top of the gloss), but I swatched it as well below. I may just throw this tube out when I've finished the post, honestly.
#7. Neutrogena Revitalizing Lip Balm SPF 20, Healthy Blush 20, available at Drugstore.com and Ulta for $8.99. I love that this one has SPF in it, and it has a nice color. (It comes in six colors, so you have a variety to choose from.) The downside to me is the super-wide, curved tube — I generally consider myself to have lips that are on the fuller side, and it was just way too wide for me to use without a mirror (honestly, I probably could have stood to use a lip brush). I really hope they change the packaging because it's one of the few nice colors with SPF.
#8. Lipstick Queen 'Medieval' Lipstick, $22 at Nordstrom. This one is marketed more as a lipstick than a balm, but I've always found the color sheer enough (but definitely layerable) to consider it as a balm in the same realm as Clinique's Black Honey. It's a bit of a pinker, fresher color than Black Honey, and I like the story behind it — "During medieval times, when lipstick was considered a sin, women used lemon to stain their lips a see-through blood red, impossible to detect as anything other than a sensual, melancholic hue. That exact look has been recreated in one simple shade, Lipstick Queen's Medieval." I'd say you do need a mirror to apply it. It's very moisturizing, which isn't surprising since it's really just a tube of Vitamin E and pigment.
#9. Nivea Lip Care, a Kiss of Cherry, available at Drugstore.com for $2.99. Hooray for SPF 10! (Can you tell I'm a bit of a fanatic about sun protection?) It's has a VERY light color that is not very layerable. It has a nice mositurizing feel and a no-mess application. If memory serves Nivea does make a few different tinted balms, but markets them each as a separate product entirely (instead of multiple colorways within one product) — I may try another. The tube here is less than great also — a wide, fat tube, but the tint is light enough that you don't really need a mirror to apply it.
#10. Madison Street Beauty, Cerise Lip Sheer – Tinted Lip Balm — was $5.99, now $2.40 at Etsy. I found out about Madison Street Beauty through a friend's Facebook page — she was really psyched that they were having a huge sale. I clicked over, and the prices were so low (and it was one of those days where I apparently needed some shopping therapy) that I wound up buying two lip glosses, three eye shadows, and a nail polish, all for under $18 or so. I like that the brand focuses on environmentally friendly packaging, with all natural and vegan ingredients, and the quality of the stuff has been, I'd say, higher than drugstore quality (I particularly like the eye shadows). In terms of a review, this balm has a very light color and a moisturizing feel. It has a no-mess application, and I would say the color is layerable. They have a ton of colors to choose from.
#11. Maybelline Baby Lips Moisturizing Lip Balm, Grape Vine, available at Drugstore.com for $3.99. I bought this one a while ago, then lost the tube, and then found it again, so it's kind of like a new product all over again. I like the feel and the scent of it, but it is a slightly uneven application. The color does not really layer.
#12. CoverGirl Lipslicks Smoochies Lip Balm, Luv U 215, available at Drugstore.com for $4.99. This is the color that I bought after trying it at a Fashion Week thing (the makeup artist selected it for me). It's a beautiful pink, but in context with the rest of my coloring just isn't MY pink. Like I said earlier, I liked the feel/scent/wear enough that I bought a second tube in another color (#2, above).
#13. Lipstick Queen Hello Sailor, available at Nordstrom for $25. I think this one belongs in a different category, along with all of those grown-up versions of mood lipsticks such as Dior Addict Lip Glow, Smashbox's O-Glow, Sephora's Color Reveal Lip Balm, and others. (See, yet another category we could round up — any favorite mood lipsticks, readers?) This one has a SUPER light application, but a nice moisturizing feel (similar to the other Lipstick Queen product, above). It has a no-mess application because it's so light. I would say it isn't very layerable (the color doesn't get more blue after multiple applications). But: being able to pull out a blue tube of lipstick and put it on nonchalantly without a mirror? Pretty cool. (I did swatch this one on my arm, but it came out poorly so I'm showing you the one right next to it for context also — that's Black Honey with it, in the final picture; the black arrow is pointing to the swatch of Hello Sailor.)
I must say: I have a new respect for beauty bloggers who do this all the time — swatching and photographing take forEVER! Readers, which are your favorite tinted lip balms? How do you switch up your makeup when it gets hot outside?
Oh, and bonus question: which are your favorite pale nail polish colors (for interviewing or otherwise)? Shout out your favorite colors (and brand please) and I'll try to do a round-up for next month's Beauty feature.