How do you turn down opportunities at work when the timing isn't right? Reader M wonders…
I was recently asked to relocate offices (I work at a mid-sized law firm). The relocation would be something of a promotion based on the work I'd get to do and the people I'd get to work with. I was asked because the other office is very busy and has more work than capacity at the moment. If I were single, I'd probably say yes. Or least strongly consider it.

But I'm engaged to a wonderful man who is not enthusiastic about the idea of uprooting his life and his career to follow me to a smaller city with less opportunity for him. My question is, how do you turn down an offer for relocation without appearing to be uncommitted to your job? I want to signal that I love my job and appreciate the opportunity, but that it's not the right time or circumstances for me.
I had a similar situation come up when I started dating my husband — a company I would have loved to work for started heavily recruiting me, even offering to train me in an area I was eager to get into. The catch: it was all the way across the country.
I've always endeavored to stay in the same time zone as my family, but with the addition of this new guy I'd started dating (only two months in at that point!) it was an easy decision: I turned it down outright. At the time I felt like a bad feminist, a bad overachieving chick, a bad…everything, but I have no regrets. (Of course, hindsight is 20/20.)
Along similar lines, I know that my father turned down fairly major career opportunities when my brother and I were in high school because it would have meant uprooting the family to a foreign country.
I'm curious to hear what the readers say, but I think it's normal to sometimes turn down opportunities because it's wrong for you.
(For some reason this discussion calls to mind one of my favorite graduation gifts, Dr. Seuss's Oh, the Places You'll Go!: "You'll look up and down streets. Look 'em over with care. About some you will say, 'I don't choose to go there.' With your head full of brains and your shoes full of feet, you're too smart to go down any not-so-good street.")
The trick here is to be gracious in turning it down, and be clear that it's due to timing/circumstances in this case (leaving the door open for possible renewed discussions at some later date in case your opinion changes).
(Depending on my relationship with the boss, I might leave the fiancé out of the reasoning and just say "personal/family reasons," and leave it at that.) In Reader M's case — because this opportunity is in the same company as her current employer — she might want to have a longer discussion with her supervisor about what her path to advancement might look like if she turns down opportunities like this. If it's standard practice to promote people by having them move from office to office, it may be time to start looking for a new job.
Readers, have you turned down career opportunities for family/personal reasons? What are your best tips for how to turn down opportunities?
This post contains affiliate links and Corporette® may earn commissions for purchases made through links in this post. For more details see here. Thank you so much for your support!
(Updated images (2020) via Stencil. Originally pictured: Wrong Way 2, originally uploaded to Flickr by Jack Zalium.)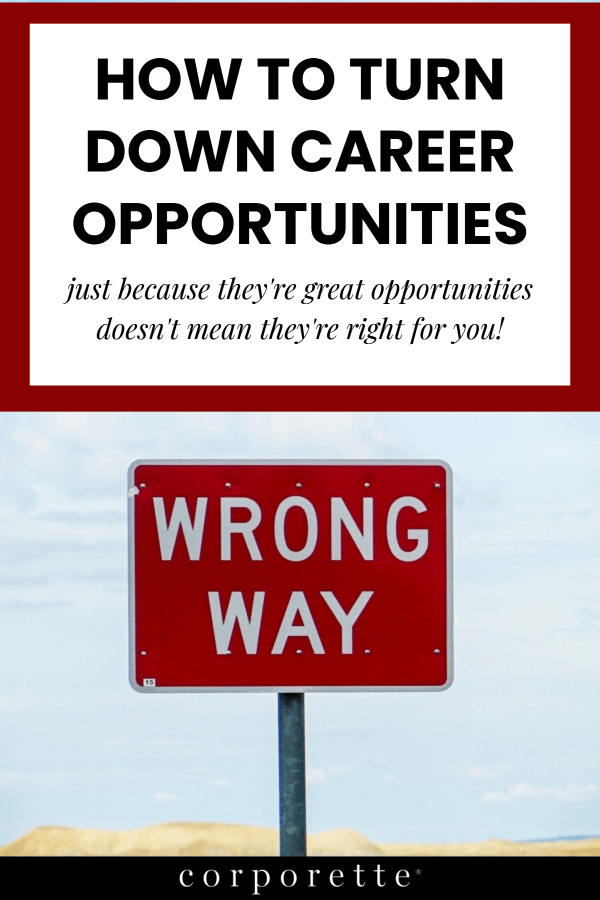 We are a participant in the Amazon Services LLC Associates Program, an affiliate advertising program designed to provide a means for us to earn fees by linking to Amazon.com and affiliated sites.