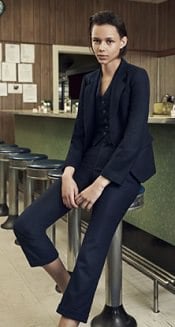 If you're thinking of adding women's vests to your workwear wardrobe, what's the best way to wear them at the office? And where can you buy vests for women in the first place? Reader K wonders…
I work at a relatively conservative-dressing law firm, and I've seen a few women, at my institution and elsewhere, wearing suiting vests — as in, the middle part of a man's 3 piece suit — usually over a white button up. I think they look great. What do you think of suiting vests? Do you know where can I find them?
Interesting question — we have occasionally featured suits with matching vests in our Suit of the Week feature, but not often — I'll admit it's a hard look to pull off. Personally, I prefer the most classic vested look — a close-fitting, almost shrunken look. In product catalogs a vest is often featured as a shell, with nothing beneath, but I wouldn't advise that for the office. Instead, layer it on top of a button-front blouse or even a simple t-shirt (I'd suggest going for a scoopneck, jewelneck, or U-neck, not a crew or V) for a sophisticated, almost monochromatic look. Wear the blazer + vest combo with jeans for a dressed-up but casual look, or go for a vest-like look with a suit by layering a sweater the same color as your suit (either a shell, a proper sweater vest, or a regular, sleeved sweater) on top of a blouse.
These things are practically impossible to find right now in stores, but here are a few versions, at top and below: Smythe / Limited / Bop Basics / Rag & Bone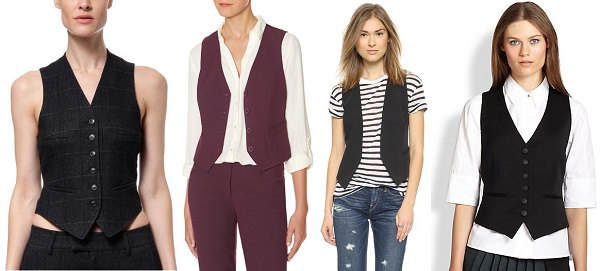 That said, there is a trend right now that has long vests, meant to replace blazers (rather than be worn with them). I can't wrap my head around the trend — it just looks unspeakably ugly to me, honestly. Here are a few pictures for illustration, all available at Nordstrom should you disagree with me: 1 / 2 / 3 / 4. Note that bare arms at the office are a KYO situation — I really don't like looks 1 and 4.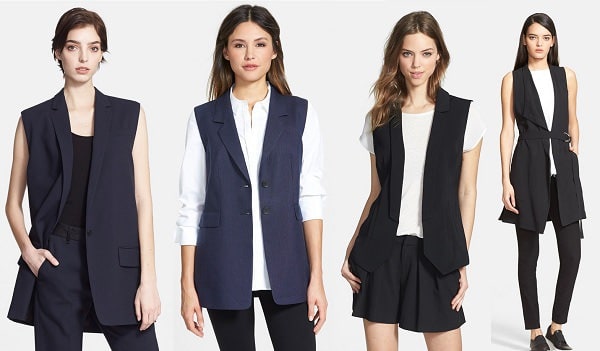 Ladies, what are your thoughts on vests for the office — either the older, shrunken versions or the larger, drapier versions? Do you like to wear either kind of vest to work?
—————
N.B. These substantive posts are intended to be a source of community comment on a particular topic, which readers can browse through without having to sift out a lot of unrelated comments. And so, although of course we highly value all comments by our readers, we're going to ask you to please keep your comments on topic; threadjacks will be deleted at our sole discretion and convenience. Thank you for your understanding!