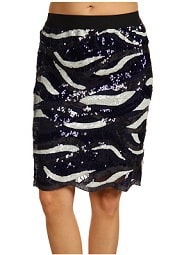 Something on your mind? Chat about it here.
6pm.com is offering up to 70% off "holiday party finds" today, and there are some great pieces (including a lot of Bruno Magli shoes that would work for work as well, some of which I've recommended before). I like this versatile sequin skirt, which works in a variety of party situations: wear it with a black twinset to the "I'm not sure if we're supposed to dress up" party, or a tighter/more revealing tank for a night out with your significant other; you could even add a pop of a totally different color (purple? red? green? all sound good to me). Because it's a combo of black, navy, and white, it doesn't even have to be limited to a Christmas party — this is the kind of thing where, with proper care, it could last you several years and be worn to numerous parties. It was $348, but today comes down to $87. Nice! BCBGMAXAZRIA Elodie Lace & Sequin Wave Skirt
P.S. Happy holidays, ladies!  I hope everyone has a long, healthy, safe vacation from work coming up!  We do have a few posts slated for the next week or so (probably a sales roundup, as well as some of my favorite picks from various TPS reports, Coffee Breaks and the like), but for the most part regular posting will resume after the New Year.