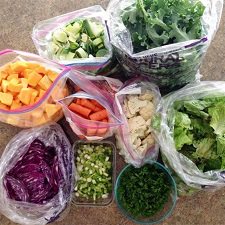 One of the things that came up in the comments on our diets for busy women post was the idea of prepping meals and snacks on Sunday for the week ahead — and I've read a ton of advice saying that you should steal an hour during the weekend to review the major tasks you need to accomplish in the week ahead. So I thought it might be an interesting open thread today: Do YOU do weekend prep for Monday or the week ahead? When do you do it, and what do you do?
Pictured: veggie meal prep from @squirrel_kitchen, featured in this DailyBurn article about 21 inspiring instagram accounts for meal prep.
For my $.02, when I was working in BigLaw I liked resting/playing on Saturday and coming into the office on Sunday for a few hours if I needed to do some work. Because I was well rested and there was no one else in the office (or, at least, vastly fewer people, and everyone was there to work), my focus was so much better — I used to call them "Super Mondays" because I was so productive.
These days, I often try to get at least half of the short morning and afternoon posts written for the week on Sunday afternoons, putting in a few hours of work while my youngest son naps. If at all possible I also try to write a to-do list of my tasks for the week ahead, and put papers to review on my desk so I can get some focused work done before turning on the computer — easier said than done when your business is online! This probably isn't even that noteworthy, but another thing I try to do is look at the NYT and WSJ and other news outlets on Sunday, because I've found that I waste far too much time looking at articles on Monday, particularly the longer magazine articles.
So ladies, let's hear it — what routines and practices have you put in place for your weekends that lay the groundwork for a great week ahead? For those of you who do meal prep or have other healthy habits on the weekend, I'd love to hear what you do!
Psst: here's our last discussion on morning routines for successful people.