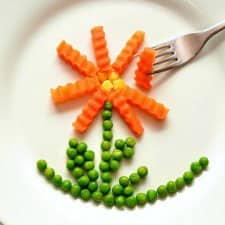 I've seen a lot of commenter threads about different diets lately, and I've been looking into them myself, so I thought I'd start a diet open thread to collect everyone's thoughts in one place. At the outset, I just want to remind everyone this isn't necessarily about weight loss — some people try different diets as a way to eat healthier or break bad habits. If you aren't interested in changing your diet, or if this talk is triggering to you, please skip this thread. In case it needs to be said: this thread is not about looking "perfect." Bodies come in all shapes and sizes; please strive to love yours no matter what size.
But, for those of you who WOULD care to discuss it, let's hear it, ladies: Have you tried to change your diet lately? What diets did you consider, what did you end up doing, what good habits have managed to stick with you? What's your bottom line in gauging success of a new diet (like seeing the scale move, losing weight, getting rid of a food-sensitivity symptom like bloating or fatigue)? What role do expense, convenience, and rigidity play — as a busy working woman do you dismiss out-of-hand a diet that requires you to prepare everything at home or allows no wiggle room?
As far as my diet goes, my general goal in life is to focus on eating as many vegetables as I can. There's that old quote from Michael Pollan that seems to be repeated in theory in everything I read on nutrition and health: "Eat food. Not too much. Mostly plants." I'm not always successful at eating "mostly" plants (does wine count?), but in my little head I like the emphasis on eating more good things rather than taking away "bad" things — I feel like my "true north" is always going to come back to vegetables and lean proteins.
I don't particularly want to ever strive to be a strict vegan, but I am trying to add more meatless dishes to our repertoire through books like VB6. I've done Weight Watchers for years, but I'm not super excited about the new(ish) Points system, so I've been pondering other diets like Paleo, Whole Food, or even old school Atkins (but with unlimited veggies) — and I've even been looking into some of the fitness/diet programs based on your genetics. (Several offer a discounted price if you send over your 23 and Me results — so far I like GX Slim's privacy policy better than DNAFit's, but I haven't quite processed the difference between the results they offer.)
So let's talk, ladies — what about your diet is working for you, and what do you struggle with? Have you tried a new diet recently, or did you make a change a while ago that is still working for you? Which diets did you consider, and what did you choose? Do you have a food philosophy (like "eat mostly plants") or food rules (like "closing the kitchen" at a certain time)? Do you believe in cutting entire food groups out of your diet, or avoiding certain things (like carbs or sugar)? If you're one of the unlucky few who, like me, has struggled to eat more healthily and/or lose weight for years, what was the tipping point for you?
Pictured: Pixabay.