Like these posts? Follow us on Twitter or Facebook — this is the edited version of what we're reading! (We also Tweet if we hear about a good sale through our CorporetteDeals Twitter feed.) You can also follow us on Pinterest.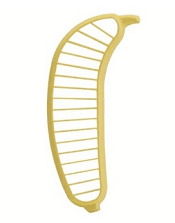 – Long week? Racked points us to the hilarious comments for this banana splicer on Amazon. (Click through to the product page if you need additional chuckles — comedy gold in there, people.)
– Ask a Hiring Manager tackles a lot of interview clothing questions (including what to do when your interviewer criticizes your choice of interview attire — ouch). (We've had great discussions here about what to wear for an interview, as well as how to look professional in bad weather.)
– Behold: Two different articles advise on suiting for men — I've always read these articles because I think we all can learn a bit from them.  Details tells you 57 rules of style for suiting (including suggesting green shoes to make a navy suit pop, and noting that a navy overcoat can be worn with a black suit), and the WSJ covers the obsession for custom suits on Wall Street (here's an additional link to WSJ TV; may start playing an ad immediately upon opening).
– SheFinds ponders what to wear to all those new fitness classes you'll be trying this January.
– Is it hard for you to give honest feedback to your subordinates?  The NYT has some recommendations for you from Google exec Karen May.
– Savvy Sugar suggests one reason you possibly didn't get the job (and what to do about it).
– Are you following the rules of the "email hierarchy"?  This author at Bitter Lawyer wasn't.
– Finally: Please consider nominating Corporette for the 2013 Weblog Awards! Voting closes January 15 January 27.
Did we miss anything? Add 'em here, or send them to [email protected] Thank you!